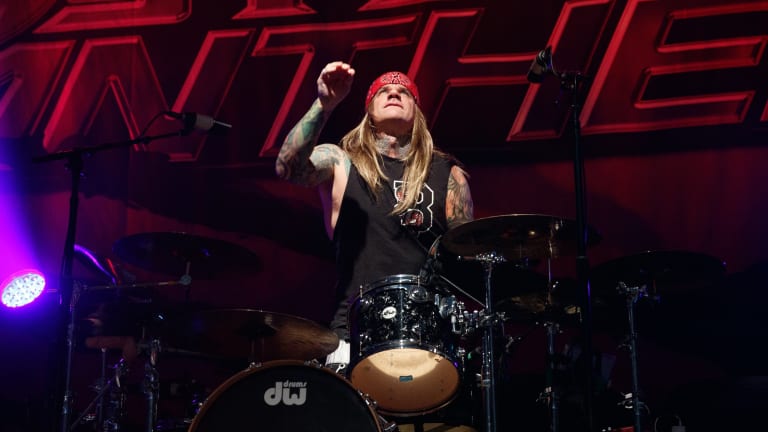 Hey Stix from Steel Panther! What are your 5 favorite '80s rock videos?
Stix gives us his pix for the most gloriously over-the-top clipz
Ah, the '80s. The era of big riffs, bigger hair and outrageous outfits, all of it wrapped up in gloriously over-the-top music videos. If any current band better captures and celebrates that ethos today than Steel Panther, well, we sure haven't found 'em. And if we ever do, we'll just show them classic clips like "Death to All But Metal" and "Party Like Tomorrow is the End of the World" to demonstrate that, when it comes to '80s-style videos, nobody can touch the Panther. Which makes sense, because as Steel Panther drummer Stix Zadinia makes clear in this list, he and his band mates clearly learned form the best. And so without further ado, here are Stix's "pix" for the five greatest '80s rock videos.
5. Scorpions, "Rock You Like a Hurricane"
"No one rocks inside a cage full of cat people like Klaus and Co. Great song, great video."
4. Ratt, "Round and Round"
"Milton Berle as a lady. Warren DeMartini crashing through the ceiling to do a solo on a dining room table. What else is there?"
3. Van Halen, "Jump"
"DLR in prime jumpy-kicky form, and EVH smiling whilst shredding. The keyboard part that would become the most played riff at high school parties where there was a piano. Game over!"
2. Guns N' Roses, "Welcome to the Jungle"
"Seeing Axl Rose hop off the bus with wheat in his mouth was almost as cool as seeing him with his hair teased up 17 inches tall! They were just cool as fuck. Plus, that riff was infectious as hell."
1. Whitesnake, "Here I Go Again"
"Tawny. Jaguars. Coverdale. Tawny. Jaguars. Coverdale. Tawny. Jaguars. Coverdale..."