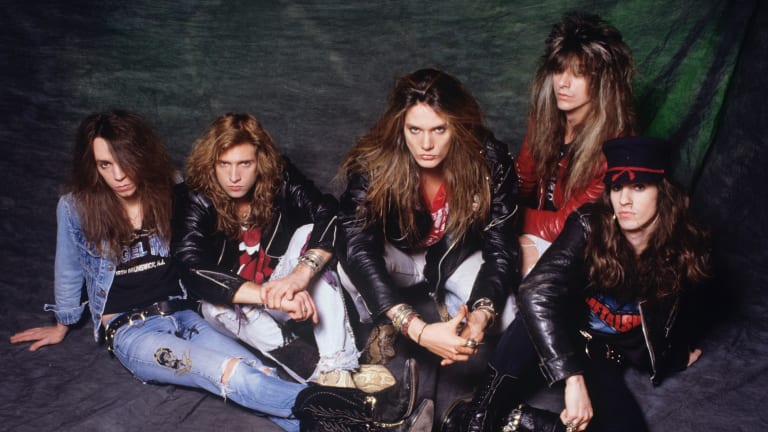 Makin' a mess: 8 things you didn't know about Skid Row's landmark debut album
The multi-platinum record rocketed the Jersey band to superstardom. Here's how it happened
By 1989, it could be argued, hard rock was nearing its commercial and artistic zenith. Bands like Guns N' Roses, Mötley Crüe and Bon Jovi were dominating radio and MTV, not to mention packing tens of thousands of fans into arenas across the country on a nightly basis. In their wake, the genre was seemingly flooded with dozens, if not hundreds, of big-haired, leather-wrapped wannabes and copycats.
In just a few short years the musical tides would turn, and grunge and alternative would take control of the mainstream. But the decade of decadence still had one more trailblazing band and stone-cold classic of a debut album to offer up, and that album was Skid Row, released on Atlantic Records on January 24, 1989.
In hindsight, the success of Skid Row seems as unlikely as it also does inevitable. To the former point, the band had already been kicking around the New Jersey scene, far from the bright lights of the Sunset Strip, for several years, and with little to show for it. But from the opening blast of "Big Guns," to the bracing "Sweet Little Sister," the lookin'-for-a-fight grind of "Piece of Me" to the rampaging "Makin' a Mess," Skid Row – and Skid Row – hit hard, heavy and without relent.
Add in the hooky and dynamic writing and arranging skills of guitarist Dave "Snake" Sabo and bassist Rachel Bolan, the fireworks-like six-string interplay of Snake and co-guitarist Scotti Hill and the mind-melting wail, pinup-ready good looks and bad-boy volatility of last-minute lineup addition Sebastian Bach, and you have the makings of an undeniable masterpiece.
This was a leaner, tougher and more focused take on '80s hard rock, reminiscent of the raw and gritty approach Guns N' Roses had brought back into style a few years prior, only with perhaps more overt metal – and, it's worth noting, also pop – overtones. And judging by the album's trio of eventual smash hits – the raise-your-fist-and-yell anthem "Youth Gone Wild," the minor-key murder ballad "18 and Life" and the soaring singalong "I Remember You" – it was a sound that connected instantly and intensely with fans and the larger mainstream world.
Indeed, Skid Row proved to be a massive success, and almost immediately the band was one of the biggest and most notorious acts in hard rock, touring alongside Bon Jovi and Aerosmith, joining Motley Crue, Ozzy and others at the Moscow Music Peace Festival, taking up residence on MTV and magazine covers and causing all manner of mayhem onstage, backstage and in the press.
To that end, the original Skid Row lineup would last just two more albums (including 1991's chart-topping Slave to the Grind). But today, the band is still recording and touring (a new full-length is scheduled for 2022), and the songs persist. Indeed, more than 30 years later, the album that launched Skid Row to stardom sounds as urgent and explosive as it did upon its release. With that in mind, here are 7 things you might not know about Skid Row.
1. Dave "Snake" Sabo was partially inspired to start Skid Row after losing out on the lead guitarist gig in Cinderella
It's common lore that Snake played with Jon Bon Jovi in what was an embryonic version of Bon Jovi. But a few years after that, he also auditioned for a still-unsigned Cinderella, eventually losing out to guitarist Jeff LaBar. As Sabo recalled in an interview for the book Nothin' But a Good Time, "I jammed with them three times. As did Jeff LaBar. And Jeff got the gig and I was heartbroken. I was crushed."
According to Cinderella bassist Eric Brittingham, LaBar got the go-ahead in part because Sabo would call "20 times a day" asking if he had the gig, a move that he and Cinderella front man Tom Keifer worried would eventually drive them crazy.
Snake acknowledged as much, saying, "I was relentless because I wanted it so bad." Although he was ultimately rejected, Snake added that, "It was great because I told myself, I'll never audition for anybody ever again. I'm gonna do my own thing. That was the kick in the ass that I needed to start putting Skid Row together."
2. The seeds of Skid Row were planted in a garden…specifically, Garden State Music
In 1986 Snake got a job working at Garden State Music in Tom's River, New Jersey, and it was there that he met Rachel Bolan, whose band at the time, Godsend, was on its last legs. Snake already had an embryonic version of Skid Row going, with singer Matt Fallon and guitarist Jimmy Yuhas, but needed a bass player. He and Bolan hit it off both as musicians and songwriters, and Bolan soon brought in his Godsend band mate Scotti Hill to replace the departing Yuhas. Drummer Rob Affuso was the next one to join, via a connection with Bon Jovi keyboardist David Bryan, and the band was off and running… sorta.
3. Scotti Hill's first-ever show with Skid Row was an arena date opening for Bon Jovi
Way before they had a record deal, Skid Row landed three dates opening for Bon Jovi on their Slippery When Wet tour as a result of Snake's close relationship with the band. "We had been doing small clubs and then all of a sudden we have these gigs at, like, a 5,000-seat venue," Bolan recalled in NBAGT. "It was the coolest thing ever." Added Hill, "My first gig with the band was opening for Bon Jovi in Bethlehem, Pennsylvania."
Afterward, Bon Jovi (and future Skid Row) manager Doc McGhee went backstage to talk to the band. "We were in the dressing room and Doc came in and was like, 'Yeah, the songs are great.' Because we had done 'Youth Gone Wild,' we had done '18 and Life,' " recalled Snake. "But he said, 'You need a new singer. This guy's not gonna cut it.' "
4. A rock 'n' roll wedding
Skid Row eventually parted ways with Matt Fallon, but it took a while before they found his replacement. Prospects included John Corabi and future Lynch Mob vocalist Oni Logan, and they even reached out to singers in the pages of this very title. "We spent nine or ten months searching, putting ads in the back of Metal Edge, things like that," Snake recalled. "We auditioned singer after singer after singer. And nothing."
But then fate intervened. Jersey-based rock photog Mark Weiss got married in June of 1987, and his wedding party included a host of rockers, including Zakk Wylde and members of Twisted Sister and Quiet Riot. Also in attendance was a relative unknown, Sebastian Bach, who had been fronting Detroit hard-rockers Madam X. A jam session broke out at the reception, and Bach got onstage to sing with Wylde and DuBrow. Afterward, he was introduced to another pair of guests – Jon Bon Jovi's parents.
Said Snake, "After the wedding I got word from Mr. and Mrs. Bongiovi: 'There was this kid singing at Mark's wedding. Great voice, skinny, tall, good looking…' The whole bit. We were able to get in touch with Sebastian, who, I think he was out of Madam X, and he was back up in Canada at this point."
They sent him a four-song demo, which included "Youth Gone Wild" and "18 and Life." "And we made arrangements for him to come down to New Jersey to jam with us," Snake said.
5. Hello, Wisconsin!
When it came time to track Skid Row, the band's camp took the five Jersey boys and plopped them down in Wisconsin – specifically, at Royal Recorders studio in Lake Geneva, with producer Michael Wagener. Why the extreme change of scene?
"The reasoning that they gave us — which was partially true — was, 'We need to get you out of New Jersey, away from your friends, family, isolated somewhere, where it's all about the record,' " Snake recalled in an interview with Metal Hammer. 
He continued, "To us, it might as well have been Paris. So, we come to find out that this recording studio is attached to this old Playboy Club now called the Americana, and the studio Royal Recorders, is owned by two guys from Chicago who were friends with Doc. We got a great rate and it's a great studio, and Michael Wagener went out there and made sure everything was perfect, and it was — everything was great."
Regarding the recording his vocals, Bach recently told Metal Edge that he took inspiration from a unique and specific place – Oregon-based metal act Malice's 1985 album In the Beginning… "It's hardly known by anybody, but if you wanna hear where I got some of my vocals on the first Skid Row record, you'll hear it in that," Bach said. "A lot of the vocals on Skid Row, that was me singing along to Malice."`
6. Success came slowly… and then very, very quickly
Skid Row was released on January 24, 1989, and two days later the band played their first date as support on Bon Jovi's New Jersey tour, at Dallas' Reunion Arena. But it took a minute for the record to gain steam. "We were absolutely unknown," Snake recalled in NBAGT. " We didn't even have a big push yet at MTV. Headbangers Ball had maybe played the 'Youth Gone Wild' video once or twice before the tour started."
Said Hill, "I didn't start noticing anything until '18 and Life' dropped. They had Dial MTV back in those days, where you could call in and request your favorite video of the day. So we were covering the arenas with Dial MTV flyers, and '18 and Life' just smashed it. And then all hell broke loose."
7. Sebastian Bach and Jon Bon Jovi came to blows… over spilled milk
During the New Jersey tour, Hill recalled that there was "prankster shit" going on the whole time. "Occasionally the [Bon Jovi] band would come out, throw eggs at us or something like that. I remember Jon smashing a birthday cake in my face once." It was all fun and games until one of the last dates, when, as Skid Row made their way to the stage, a member of Bon Jovi's crew poured a jug of milk over Bach's head. "I think the second song in our set was 'Piece of Me,' " Hill continued. "Before the song breaks in it's just bass and drums, and Sebastian's like, 'All right, Jon Bon Jovi! Why don't you come get a piece. Of. Me! And what Jon hears backstage, through the cement arena walls, is 'Hey, Jon Bon Jovi! You're a pussy!' "
After coming offstage, the band was met by a fuming Bon Jovi, flanked by his team and his head of security. Hill: "We walk past and Sebastian's like, 'Ah, you got me…' Or something like that. Referring to the milk. And Jon goes, 'You motherfucker!' And punches him in the face." Next thing you know, "It's just elbows and fists flying all over the place."
In the end, the two camps were able to clear everything up. But, said Snake, "It was ugly. It stunk. Because we'd been doing this with each other for nine months, and we'd gone from being this absolutely unknown fart in the wind to a recognizable act. And Bon Jovi were a big part of that."
8. Skid Row set the stage for the chart-topping Slave to the Grind
By the time Skid Row wrapped the tour in support of their debut they had a multiplatinum record on their hands. But they decided to take things in a different direction for the follow-up. Bach explained, " 'Youth Gone Wild' was a hit song, and 'Piece of Me' was a video hit on MTV, but our giant smash hits were '18 and Life' and 'I Remember You.' Which…. we considered them ballads. We were young and full of piss and vinegar, and we didn't want to be known as a ballad band. So we went as heavy as we could for the next record."
According to Snake, Jason Flom, who signed the band to Atlantic Records, told them that Slave to the Grind "is one of my favorite albums ever. But you're gonna lose half your audience because there's not an 'I Remember You' on there."
Nevertheless, fueled by the massive juggernaut of Skid Row, the album hit big straight away. "People were anticipating [the record] so everybody got it as soon as it came out," Hill recalled. "I remember walking up to a hotel and having our tour manager come in, going, Slave to the Grind is the Number One album on Billboard. It was like, 'Holy shit!' I wasn't expecting that. It was an awesome feeling."