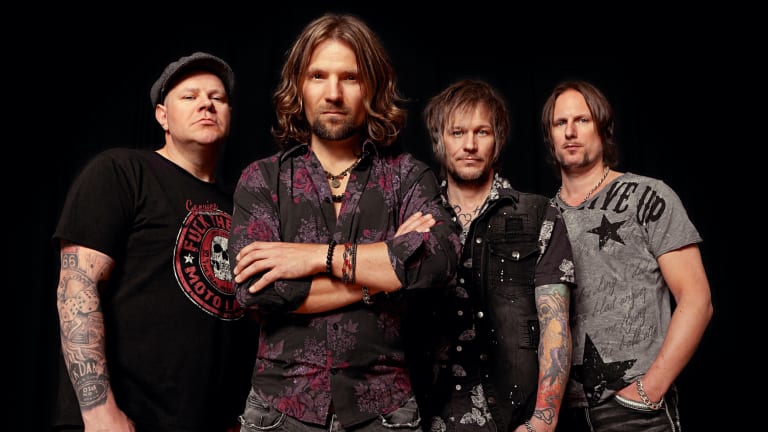 The nine greatest German hard rock and metal acts, according to the New Roses
From the grand masters of German hard rock to the queen of German metal, New Roses drummer Urban Berz picks the best his homeland has to offer
For the past several years, the New Roses have served as one of Germany's greatest new hard rock exports, combining Guns N' Roses-style sleaze with a rollicking, AC/DC-meets-Motorhead rumble, with a dash of southern rock swagger and a whole lot of AOR-fortified melodies thrown in for good measure. 
The band recently released their newest studio album, Sweet Poison (you can check out the video for the first single, "My Kinda Crazy," above), and to mark the occasion, we caught up with drummer Urban Berz to pick his brain on the eight greatest acts in German hard rock and metal history... and, of course, the Scorpions, who he calls the "grand masters of German hard rock." 
To find out what other German rockers you should be listening to, read on. 
Scorpions 
"They are the grand masters of German hard rock and we always enjoy playing with them, not only because they wrote "Rock You Like a Hurricane," one of the best hard rock songs ever, but they are also very nice gentlemen with a highly professional road crew. But never make the mistake and go party with their drummer, Mikkey Dee, when you have a show the next day!"
Accept
"Still a very good band with the new line up, but became legendary with Udo Dirkschneider ("The German Tank") on vocals, Peter Baltes on bass, Wolf Hoffmann on guitar and Stefan Kaufmann on drums and as producer. Their 1985 live album Stayin' a Life, is still one of the best-sounding live albums that has ever been recorded."
Bonfire
"Their 1987 album, Fireworks, was a real masterpiece, produced by the legendary German hard-rock producer Michael Wagener, who also recorded and mixed hit records from  bands like Metallica, Dokken, Extreme, White Lion and many others after moving to the United States in the '80s. Unfortunately, Bonfire never achieved the big international success they deserved with their great songs featuring these super-catchy, big singalong choruses, but they have created a very special sound combining L.A. hard rock with southern rock influences."
Helloween
"Definitely one of the most successful metal bands from Germany, and they're still touring big arenas all over the planet. We are lucky to have their highly-talented front-of-house engineer behind the desk at our shows once in a while, if the band is not on tour!"
Sodom
"Singer Tom Angelripper is an impressive shouter! As teenagers we used to annoy our parents by playing the explicit German lyrics tracks "Die Stumme Ursel" and "Erwachet" off the band's 1994's record, Get What You Deserve,  loud in our child's room!"
Rammstein
"Probably the most successful German rock act ever. They invented a new, modern style of German industrial metal, setting new standards for sound and visual production."
Destruction
"Besides Sodom and Kreator, still one of the most famous and oldest German trash metal bands! Singer Schmier is a cool guy to hang with. It's always exciting to meet him behind festival stages and catch up on a beer or two!"
Running Wild
"Legendary German pirate metal band! I'm still proud of my jean jacket, which the band signed on my first visit to the Frankfurt music fair when I was 15 years old! Later on we became friends with the band's former drummer, Hasche, who ran a hard-rock club in the south part of Germany, where we used to play a couple of times."
Doro
"The queen of metal! She reminds us of the good old days in the late '80s/early '90s, when we were headbanging at school parties to "All We Are." So great to share stages with her now, 30 years later!"