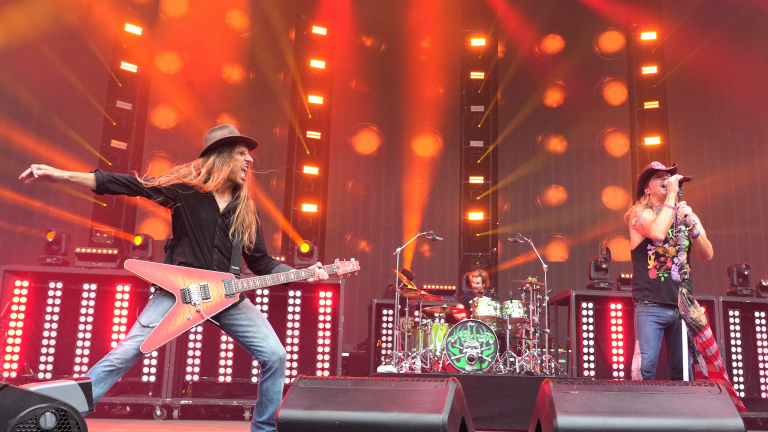 10 best hard rock and metal tours of 2022
From stadium extravaganzas to explosive (literally) arena shows to sweaty club gigs, these were the hottest tickets of the year
Following the crushing blow dealt to the touring industry by Covid for two years, 2022 is when it felt like things finally got back to a semblance of normalcy. Many long-postponed and subsequently rescheduled tours snaked their way around North America and beyond. And while the ongoing pandemic resulted in a number of cancellations, overall it seemed artists were once again making a living and fans were being entertained by their favorite bands on the regular.
Sometimes it was even a tad too much due to the sheer number of acts on the road, going past what would normally be a minor inconvenience and calendar clash. A cursory browse through social media revealed many concertgoers had to choose between upwards of three or four shows in their city on a given night. To be fair, even with the deluge of options from which to choose, it felt a hell of a lot better than having none at all to attend.
When it came to hard rock and heavy metal, there likewise was no shortage of bands, whether it was a long-anticipated reunion run (Rage Against the Machine, Mötley Crüe), anniversary celebration (Judas Priest, W.A.S.P.) or just a package tour of similar artists fans would dig seeing on the same bill (Freaks on Parade, Sonic Slam 2022). There's no way we could possibly analyze every single event that took place over the past 12 months, but take a look below at some of our favorites. And here's to an equally generous helping in 2023.
The Stadium Tour
Talk about the building of anticipation. Mötley Crüe revealed in December 2019 they were ripping up the "cessation of touring agreement" bandied about five years prior and would be co-headlining a 2020 North American tour with Def Leppard, with support from Poison and Joan Jett & the Blackhearts. The pandemic said to think again, and it was pushed back to 2021 and then once more before finally coming to fruition this past summer.
The run wasn't without its hiccups. Tommy Lee suffered a mysterious assortment of broken ribs before it even began, leaving him unable to complete a full set until seven shows in, and then the drummer was accused of using a backing track to accent his playing. There was the expected vitriol thrown toward his bandmate Vince Neil about his singing abilities, teleprompter use and personal appearance. At the end of the day though, the complaints fell to the wayside as three of the most popular bands from the '80s delivered hit after hit for hours on end.
Poison were routinely singled out as the highlight each night, leading to calls for a headlining run of their own to set sail sooner than later. And now that John 5 has taken on the Mick Mars guitar mantle going forward, whether it was fully satisfying or not, the shows were likely the last Crüe gigs with the original lineup anyone will see. Bring on round two!
Rammstein
Not only did German industrial metal titans Rammstein finally bring their full production live presentation to North America for the first time, but they also defied industry skeptics who scoffed at the idea of an act that doesn't sing in English filling stadiums – especially one from such a niche genre. Featuring nearly 1,500 tons of stage equipment flown over from Europe in seven cargo planes and ground transported in approximately 90 18-wheelers, the word "spectacle" hardly does the had-to-be-seen-to-be-believed show justice.
A bevy of explosions, walls of fire, a cannon stylized to look phallic shooting loads of foam, synchronized dance routines, a DJ set, an archery demonstration, a mini set on a small stage in the middle of the stadium and a giant baby carriage set ablaze – it was unlike anything audiences had ever seen. And it's certainly not what the respective NFL owners in most of the cities envisioned would be taking place on the same field where their football teams sought victories the following Sunday.
Sonic Slam 2022 featuring Tom Keifer Band, L.A. Guns and Faster Pussycat
Quite possibly the most underrated package tour of the year, the Sonic Slam 2022 primarily hit secondary markets in venues that were nonetheless filled throughout the late spring and early summer. Perennial road dogs Faster Pussycat opened the proceedings with a short but muscular set, followed by L.A. Guns with Phil Lewis and Tracii Guns, who had finally settled a pesky and lengthy lawsuit against Steve Riley and Kelly Nickels over band name usage. It was Tom Keifer though, who gave the rooms an arena-like vibe as he leaned heavily on the Cinderella catalog, basking in the adulation brought on by bluesy rock classics like "Gypsy Road," "Somebody Save Me" and "Shake Me."
Public Service Announcement Tour
The second reunion tour by Rage Against the Machine, and first since returning from hiatus in 2011, was delayed by the pandemic for more than two years but finally kicked off in early summer. Though it looked like it might be over before the rap metal pioneers even got warmed up as, just two shows in, frontman Zack de la Rocha suffered a severe tear of his Achilles tendon and was left unable to walk, let alone deliver the incendiary live performance he's patented over the years. Incredibly, he persevered through the inaugural part of the trek, remaining as explosive as ever - even while confined to a seated position on a road case placed at center stage nightly that he had to be carried to and from by the road crew. However, following a triumphant five-night stand at New York City's Madison Square Garden in August, de la Rocha revealed that the extent of the injury would force the cancellation of the scheduled European leg this fall and second leg of the States in early 2023.
W.A.S.P. + Armored Saint - 40 Years Live World Tour
The last time W.A.S.P. toured the United States was 2010, and you'd have to tack on another five years to that to find the last time Blackie Lawless and Co. performed the controversial anthem "Animal (Fuck Like a Beast)." Both of those streaks came to an end this fall as the band crisscrossed the country for its 40th anniversary tour along with Armored Saint, who are also celebrating hitting the four-decade marker in 2022. There was a minor stumbling block for the latter when frontman John Bush came down with a respiratory infection and was forced to sit out three shows. Thankfully, Dangerous Toys frontman Jason McMaster made himself available to step in and did so, well, masterfully.
Freaks on Parade Tour featuring Rob Zombie, Mudvayne, Static-X and Powerman 5000
The aptly titled "Freaks on Parade" tour played out like a battle each night over who among the Rob Zombie support lineup was the most theatrical. Though all three were veteran nü-metal acts, each had reached a unique phase in their careers.
Led by Zombie's little brother Spider One, Powerman 5000 have blurred the lines somewhat effortlessly between genres from punk to industrial and all stops in between since forming in the early '90s. Static-X continue to move forward as a unit without late frontman Wayne Static, using the come-to-life avatar Xer0, who may or may not be (but probably is) Edsel Dope. Finally, there's Mudvayne, which Chad Gray dusted off in late 2021 after a decade-long hiatus, during which he shelved the greasepaint and focused on the supergroup Hellyeah.
All paled in comparison, of course, to the headliner, who blends his love of '70s kitsch and psychedelia, grinding guitars and thick rhythms with a nonstop assault on the eyes in the form of vibrant technicolor graphics with relentless optic intensity. Infusing his performance with carnival barker-inspired stage patter, as well as the not-quite-silent weapon of John 5 on guitars, for what was likely their final tour together, the part-time film director Zombie showed where he shines most: amid the sights, sounds and screams of thousands nightly.
Ghost + Volbeat
Continuing their infiltration into the mainstream consciousness in 2022, Ghost embraced full-on ghoulish glam rock with their latest LP, Impera, and notably on the singles "Hunter's Moon" and "Call Me Little Sunshine." The Swedish outfit fronted by Tobias Forge under the Papa Emeritus IV persona linked up with Copenhagen's Volbeat for a co-headlining run of small arenas. It was exposure on a larger scale for both bands, which may have had slightly split audiences going into the gigs but likely unified more often than not by the time the final notes rang out. Volbeat especially seemed to gain from the introduction to the newly indoctrinated; serendipitous, as their most recent record, Servant of the Mind, is one of their most glossy and accessible to date.
Judas Priest - 50 Heavy Metal Years Tour with Queensrÿche
Judas Priest continued their 50th anniversary tour, coinciding with the slightly sideways early November induction into the Rock and Roll Hall of Fame as recipients of the award for "Musical Excellence." Kicking off the most recent leg of the celebration in the middle of October, they injected new life into the gigs, shaking up the setlist with the additions of songs like "Beyond the Realms of Death," "Jawbreaker," "Riding on the Wind" and the deep cut, "Genocide," which hadn't been performed live since 1982. The metal gods are already icons of the genre in so many ways, so it's hardly surprising to see them show how to move into the fifth decade with equal parts grace, grit and an adventurous spirit keeping things interesting.
The Bay Strikes Back
While it technically began overseas in 2020, the Bay Strikes Back tour really hit its stride this past spring when the U.S. leg began in earnest. Showcasing Testament, Exodus and Death Angel, three of the most enduring thrash metal units from Northern California, the nearly 120 date expedition bounced back to Europe for the summer festival season before rolling through North America yet again in what ended up being one of the more expansive package outings of the year. And while audiences were likely going to have their favorites among the trio of bands, there was an added benefit in the familiarity of having related acts in terms of the timeline in which they first came up and experienced an inaugural wave of popularity amid fans.
Alice in Chains + Breaking Benjamin + Bush
At first glance, Breaking Benjamin looked a bit out of place on this bill next to grunge metal legends Alice in Chains and post-grunge stalwarts Bush, but the hard rockers drew the exact same kind of crowd to the tour, albeit a slightly younger one. In retrospect, the bundle of bands did precisely what these sorts of events are meant to do in bringing together generations of fans under one roof – or sheds, in this case: putting the originals alongside those they inspired and seeing how well they mesh. Not unexpectedly, AIC went heavy on songs from their 1992 masterpiece, Dirt, on the occasion of the record's 30th anniversary, averaging a half-dozen tracks each night, including "Dam that River," "Down in a Hole" and "Would?"