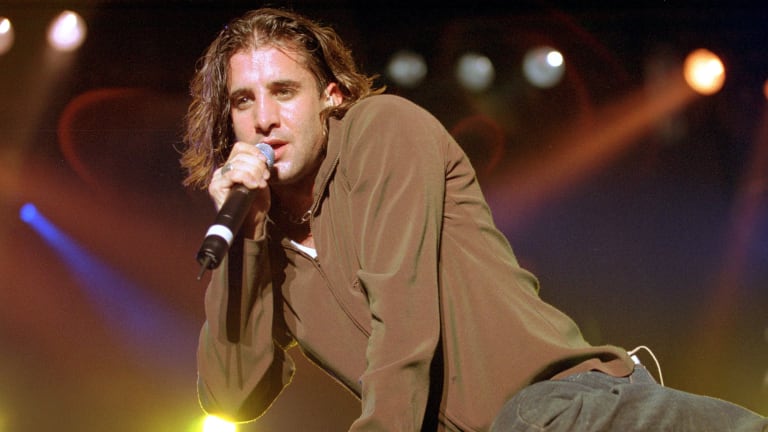 5 things you didn't know about Creed's 'My Own Prison'
DIY recording, horror movies, haters and more
Back when Creed was making their debut album, singer Scott Stapp was still working as a cook at a local Ruby Tuesday, while guitarist Mark Tremonti cooked at a Chili's. Both Stapp and Tremonti, the band's songwriters, were students at Florida State University, as were bassist Brian Marshall and drummer Scott Phillips.
Not long after Creed's My Own Prison LP was released in 1997 though, the four musicians' lives changed quickly. The band's post-grunge sound and anthemic songs like the title-track, "Torn," "Ode" and "What's This Life For" spread like wildfire from local radio to regional play on the way to becoming rock hits and high-rotation MTV videos.
To arrive at their passionate and powerful sound, Creed drew from bands like the Doors, Metallica, Tool, King's X and Led Zeppelin. Rock radio and young fans ate it up. Critics often panned the band though, dinging them for Stapp's Christian-toned lyrics and the band's familiar-sounding flannel-rock (see the New York Times' assessment of a 1998 Creed show: "Convictions aside, Creed's weakness is its music. The band's imitation of Soundgarden circa 1991 is a clumsy one").
But critics don't buy albums, fans do. And My Own Prison eventually amassed sales of more than six-million. This band of 20-something rockers was rubbing shoulders commercially with pop stars like the Spice Girls and Janet Jackson.
In 1999, Creed's sophomore album would blow up even bigger. Detonated by arena-rattling, radio-eating anthems "Higher" and "With Arms Wide Open," Human Clay achieved diamond sales status, moving around 12 million copies. Even as cultural and critical backlashes against them reached tropical-cyclone levels, Creed's third album, 2001's Weathered, sold six million copies.
Unfortunately, Stapp's alcohol and substance issues enflamed tensions within Creed, and even between the band and their fans. In 2002, Creed became the first act sued for, essentially, sucking, when a group of concertgoers filed legal action about the band after a notorious 2002 Illinois concert in which Stapp struggled on the mic and appeared addled. The case was eventually dismissed.
Creed parted ways in the mid-2000s, with the instrumentalists forming a second successful band, Alter Bridge, with singer Myles Kennedy. Creed last regrouped for a 2009 reunion album and tour, and again for more shows three years later. Stapp wrote a memoir, guested on a Carlos Santana album, released solo material and joined semi-supergroup Art of Anarchy, featuring former Guns N' Roses guitarist Ron "Bumblefoot" Thal, which released a debut LP with vocals by legendary Stone Temple Pilots singer Scott Weiland.
Whatever your opinion of Creed's music, there's no denying the intense, immense connection millions of fans had and still have My Own Prison. With the debut turning 25 years old this year, here's a look at five things you might not know about the album.
While you're at it, head over to our shop, where we're stocking an exclusive opaque orange vinyl variant of My Own Prison. Only 1,000 are being pressed, so grab yours now!
1. My Own Prison was recorded on the cheap
My Own Prison only cost the band around $6,000 to record, according to a 1998 MTV interview with Stapp. "We rented equipment in this guy's house for 30 bucks an hour," he said. "We recorded between two bunkbeds in a bedroom, the drums were done in the hallway and the guitars in the bathroom." That's right, an album cut mostly at some dude's house in Florida for six grand would go on to achieve platinum sales status six times over.
In 2017, Creed producer John Kurzweg recalled to Stereogum, "It's amazing how young they were, so it was a matter of editing down the talent and getting them to play in time and not rush and that kind of thing. We didn't have Pro Tools on that record. I had to punch them in on a digital tape machine, so sometimes it might be four bars or eight bars at a time. 'Whoops! That was too complicated; simplify that. Why'd you do that drum fill there? Move back and let's redo it.' "
2. The idea for the title track came to Stapp while he was sleeping
Similar to Rolling Stones guitarist Keith Richards' claim regarding Richards' famous "Satisfaction" riff, Stapp says the idea for My Own Prison's tortured title track came to him in his sleep. "One night I woke up about 3 a.m. or 4 a.m. from a dream and I just wrote it all down," Stapp told MTV in '98. "I didn't know it was a song at the time. A few days later I called Mark [Tremonti], he had been putting together some music, and we sat down and got the song together in about 30 minutes." Twenty-five years later, "My Own Prison" continues to connect. The song has been streamed nearly 65 million times on Spotify.
3. The version of My Own Prison that you know is not the version that was initially released
Creed was "discovered" playing at local bar Floyd's Music Store by Jeff Hanson, a former alt-rock deejay who became their first manager. It was Hanson who brought the band to producer Kurzweg. Later on, Diana Meltzer signed the band to Wind-Up Records, an indie imprint that had scored with rock bands like Evanescence and Seether and soundtracks to Daredevil and Walk the Line. "Seeing the energy in the room when Scott Stapp stepped up to the microphone," Meltzer told Florida website Monticello News in 2018, "and hearing his powerful voice fill the room and that big Creed anthemic rock sound was all I needed."
Initially, Creed had released My Own Prison on their own Blue Collar Records in June, 1997. Six-thousand CD copies were pressed, funded by management, and the self-released version sold out in about two months. The album was then remixed by studio veteran Ron Saint-Germain, whose prior credits ranged from the Cult to the Cure. This gussied-up My Own Prison was rereleased in August of that year via Wind-Up.
4. The album got a boost from a horror movie and a horrifically doomed festival
Similar to video-streaming synchs are these days (see Metallica's recent "Master of Muppets" resurgence via Stranger Things), soundtracks were a crucial '90s music marketing tool. Creed's song "What's This Life For," which eventually topped the mainstream rock chart and became their first number-one hit, was featured in Halloween H20: 20 Years Later, the horror franchise's 1998 installment.
A year later, "What's This Life For" was the set-closer for Creed's performance at doomed megafestival Woodstock '99. Legendary Doors guitarist Robby Krieger sat in with Creed on that song. Krieger also played two Doors classics, "Roadhouse Blues" and "Riders on the Storm" with Creed at Woodstock '99, allowing Stapp to try on his hero Jim Morrison's Lizard King persona.
5. With success came the haters
In their early days, Creed did gigs under the name Naked Toddler before wisely adopting their official moniker. That appellation was derived from Marshall's previous band, Mattox Creed. After a couple of My Own Prison songs made their way from a local radio show to regional stations, Creed went from 300-capacity club gigs to playing regional shows that attracted thousands of fans.
As Stapp told Loudwire in 2017, "It all came true in an instant. Within a year of that record coming out we were essentially playing arenas in some places. So that album will always have a special place in my heart because it changed my life forever and launched my life and career in the music business."
Stapp asserts the media and haters turned on Creed at a similarly proportionate clip. "It's ironic," the singer told Stereogum, "before we were extremely successful we were getting a lot of critical acclaim and a lot of people behind us in terms of the rock press community and the media community. And I think that's pretty much par for the course for any band that has that kind of rapid rise to success."
For Tremonti, the critical drubbing and butt-of jokes vitriol remains "the biggest bummer of the whole Creed years," the guitarist told Stereogum. "Millions and millions of fans and millions of record sales and sold-out venues, but then you had everybody — not everybody, but a lot of people — throwing comments at you and making you second-guess yourself. But we always just fought through it and did our best."