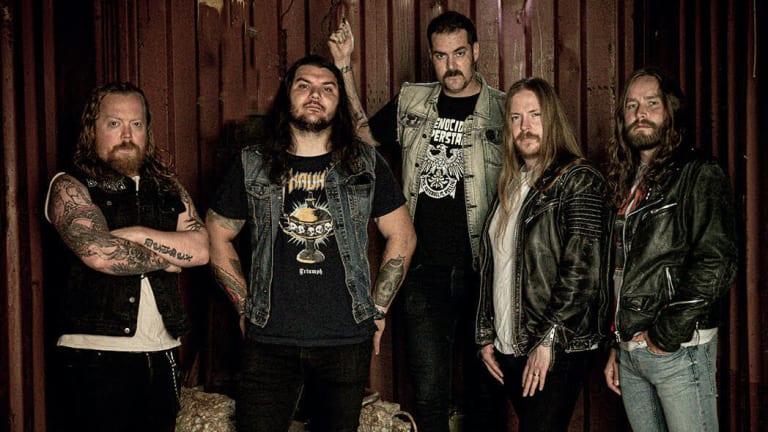 9 great Swedish metal acts, according to Screamer
From Europe to Opeth, Candlemass to Hammerfall, these are the Swedish bands you should be blasting
Swedish troupe Screamer have been churning out fist-pumping, '80s-style heavy metal for the past decade, and now they're back with their most potent offering to date, Kingmaker, due out in January on Steamhammer/SPV (you can pre-order it here). The band's fifth studio effort, drummer Henrik Petersson says it sees them "refining our signature style even more and bringing out the essence of our strongest fortes."
To find out how they forged that signature style, we asked Petersson and guitarist Dejan Rosíc to name their greatest Swedish metal influences. "Now that you have a bigger part of our Swedish influences listed hopefully you can find yourself an extra dimension to what Screamer is all about," they said. 
Europe
Henrik Petersson: There's no denying how heavily influenced we were by this band from the start. Their self-titled debut and Wings of Tomorrow is pretty much the blueprint for melodic yet very energetic heavy metal. Needless to say, from there they went on to become the probably biggest Swedish rock band of all times. We had one tape in our first old tour van and it was Europe's debut album, and there's a good reason our pre-show ritual is always a high five with "Joey Tempest!"
At the Gates
Dejan Rosíc: This band was a game-changer when I heard them the first time. Their album Slaughter of the Soul is regarded as one of the great Swedish metal albums of all time and the influence it left on the genre is immense. Me and Henrik didn't even blink when they announced their reunion in 2008 and went both to see them at the Wacken Festival in Germany and their first show in Gothenburg after the reunion.
In Flames
Petersson: As far as melodic metal goes, In Flames was definitely of the bands that perfected it during late 90's and early 00's. Bringing in an undeniable Swedish sound with Jester Race, Whoracle, Colony and Clayman, they inspired a whole new generation of Swedish (and obviously international) metal heads. Their mark on our sound is definitely undeniable, if you lift your head up from only looking at the pioneers of the '80s.
Opeth
Rosíc: I've always had a soft spot for the proggier stuff and when I heard Opeth the first time I was blown away. Their album Blackwater Park is a milestone in metal, but all of their stuff is killer. "Hope Leaves," from their softer album, Damnation, is one of my favorite songs of all time.
Hammerfall
Petersson: This is the ultimate anti-hero band. When heavy and power metal was the least cool thing to be playing, they did just that. Their timeless banger, "Dragon Lies Bleeding," on their debut set the tone and with their third album, Renegade, they cemented themselves on the top shelf of most important heavy metal acts from Sweden. On a personal note, the Renegade tour was the first ever heavy metal show I attended, and it's fair to say there would most likely not have been any Screamer without that. A true Swedish legacy of steel.
Dissection
Rosíc: My teacher before I started high school turned me onto this band. He grew up in the same area as the guitar player, John Zwetsloot, who played on the two first albums – The Somberlain and Storm of the Light's Bane. I was never into the whole black metal thing, but when I heard Dissection and the mix of melodies they had in their sound I could not stop listening. Also, their final album, Reinkaos, is one of the albums I think I've listened to a million times, and it still feels fresh today.
Bullet
Petersson: On a regional level, there's no other band that is as important as these guys. They've lived and delivered on the heavy metal highway since their debut EP. They've probably been as important to the Swedish metal community as Hammerfall, but perhaps on a more grassroots level. Definitely don't miss out on Highway Pirates, Storm of Blades and Dust to Gold!
Candlemass
Rosíc: The godfathers of doom, I would say! Nobody sounded like Leif Edling and his men when they started releasing albums. Epic and heavy, with riffs that even the hand of doom himself, Tony Iommi, would be proud off! Their two first albums are staples of classic Swedish metal, and continue to inspire people around the world to this day.
Kebnekajse
Petersson: This is probably a fairly well-hidden gem of the Swedish 70's rock/folk music to international listeners. While "Barkbrödslåten" from their '73 debut is an undying classic, their "Hårgalåten" can be heard as an interlude on In Flames' '94 album, Lunar Strain.