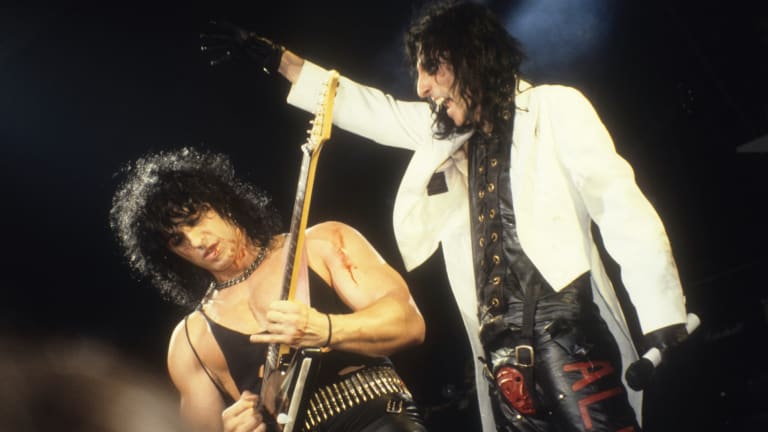 Alice Cooper's '80s-era guitarist Kane Roberts rejoins band
'He's bringing more muscle to the Detroit Muscle Tour,' Cooper says
Nita Strauss recently announced she would be exiting Alice Cooper's band after eight years in the guitar slot, and we now know who will be filling her position next to co-guitarists Ryan Roxie and Tommy Henriksen for Cooper's upcoming shows – none other than Kane Roberts, the muscled six-stringer who was instrumental in Alice's '80s comeback.
In a social media post today, June 13, Cooper announced: "I'm looking forward to welcoming back Kane Roberts for our shows in September and October. We've been friends all this time, and he's always been one of my favorite guitarists. He's bringing more muscle to the Detroit Muscle Tour. We've always had a swinging door policy where players can come and go, so it's very exciting to get back on stage with Kane."
Roberts appeared with Cooper on 1986's Constrictor and 1987's Raise Your Fist and Yell as lead guitarist and co-songwriter. Onstage, he served as an apt '80s metal foil for Alice, sporting a massive, chiseled physique and wielding a guitar shaped like a machine gun that shot flames.
Added Cooper about the upcoming live dates, "The fans are in for a real treat at these shows. It's gonna be a blast. Kane Roberts, Ryan Roxie, and Tommy Henriksen on guitars? Hell yeah!"
You can check out Roberts with Cooper in the video for the Constrictor single "Teenage Frankenstein" below.