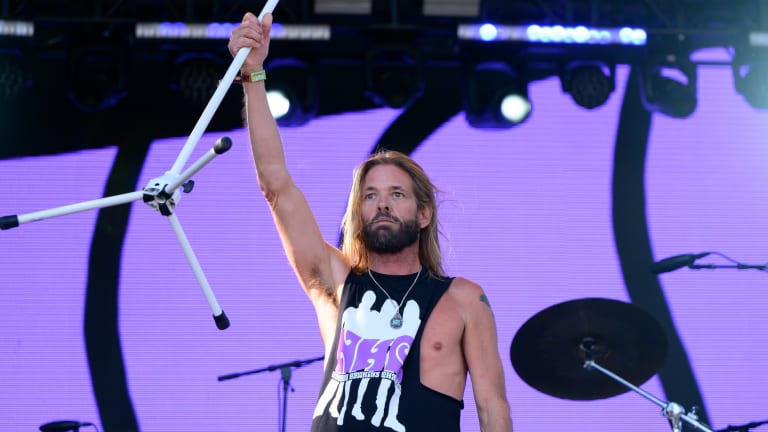 Axl Rose and Lars Ulrich remember Taylor Hawkins, "a really great guy, drummer and family man''
The Guns N' Roses singer and Metallica drummer are among the many who have paid tribute to Hawkins
Last night the rock world was shocked to learn of the death of Foo Fighters drummer Taylor Hawkins. A universally respected figure who, as Alice Cooper wrote, "was beloved by all who knew him," Hawkins' passing was met with tributes from peers across the rock spectrum, among them Guns N' Roses front man Axl Rose.
"Shocked n' saddened to hear of the passing of Taylor Hawkins," Rose wrote on Twitter. "He was a really great guy, drummer n' family man. Was always great to see him! Was looking forward to seeing him n' everyone in Daytona. Truly saddened. My deepest condolences to his family, the Foo Fighters n' their fans."
Among the other artists paying respects to Hawkins was fellow drummer Lars Ulrich, who wrote, "Thank you for always having the biggest warmest smile on your face and for lighting up every room with your infectious energy and good vibes," Ulrich opened his social media eulogy before relaying a story of seeing Hawkins perform with the Foos recently and displaying "the perfect balance of swing, swagger, bounce and insane chops."
The Metallica drummer also recalled the last conversation he had with Hawkins. "Your phone call a week ago touched and inspired me," Ulrich wrote, "and I will always be appreciative for you championing our community as in your parting words…. 'Drummers stick together!' Damn right brother. Except now the community is lesser without you."
See the full posts below.