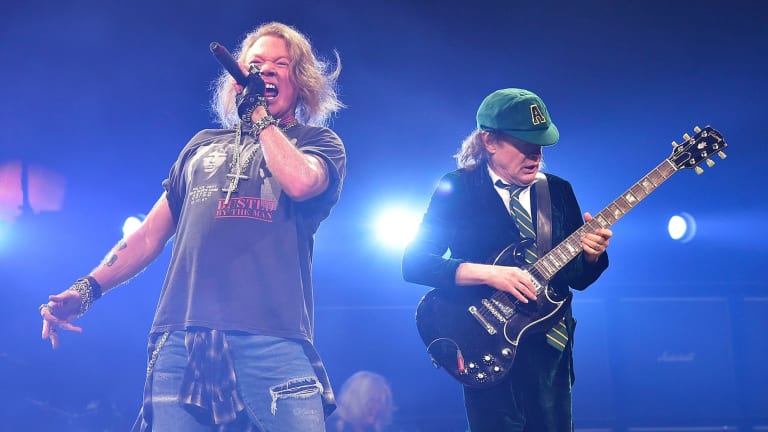 Brian Johnson says he 'couldn't watch' Axl Rose sing with AC/DC
'It's like finding a stranger in your house, sitting in your favorite chair'
By most accounts, Axl Rose did an impressive job filling in for Brian Johnson as AC/DC's front man a few years back, after he took over for the singer – who was told he risked "total hearing loss" if he didn't stop playing live – toward the end of their Rock or Bust world tour.
In his new autobiography, The Lives of Brian, Johnson states that he, like the rest of us, heard that Rose was a success. But he couldn't bring himself to actually watch any videos of his performances.
"I'm told that he did a great job," Johnson writes, via Ultimate Classic Rock, "but I just couldn't watch – especially when you've been doing it for 35 years. It's like finding a stranger in your house, sitting in your favorite chair. But I bear no grudges. It was a tough situation. Angus and the lads did what they felt they had to do. That said, after the band released a statement confirming that I was leaving the tour and wishing me all the best for the future, I couldn't relax or concentrate on anything. It was just always there."
Johnson also writes about how the situation with his hearing came to his attention, recalling that after experiencing issues during the tour, "I called Tim, the tour manager, on my mobile right there in the room to tell him that I just couldn't continue. It was one of the most difficult conversations of my life – the pain of it made worse over the weeks that followed when the tour simply went on without me. It was a sheer cliff. I didn't tumble down, I was in free fall.
He continued, "Part of the pain of it was that I blamed myself. For most of my career, I'd been in the loudest band in the world. I'd flown constantly. I'd flown even when I knew I wasn't well. For a while, people would ask me if I was depressed, but depression is treatable. My hearing loss wasn't. What I was feeling wasn't depression. It was something closer to despair."
Later that year, Johnson was introduced to an audio technician who developed an in-ear monitor system that addressed his issues. "Whatever magic he used, it worked. I could hear again – even in my deaf ear, meaning I was able to enjoy stereo," Johnson writes. "Suddenly, I felt something that I hadn't felt in what seemed like an eternity: Hope."
Johnson returned to AC/DC for their 2020 album, Power Up, and recently joined Metallica drummer Lars Ulrich and the Foo Fighters onstage at the Taylor Hawkins Tribute Concert at London's Wembley Stadium to blast through a pair of AC/DC classics.