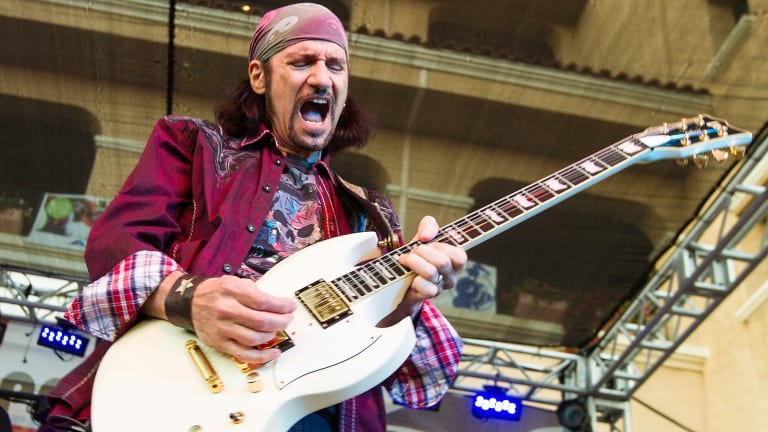 Bruce Kulick found out he would be playing to a backing track with Vinnie Vincent and Ace Frehley an hour before show time
The former Kiss man also shares his thoughts on Vincent's 15-minute unaccompanied solo
Last month's Creatures Fest in Nashville made history when three former Kiss guitarists – Vinnie Vincent, Bruce Kulick and Ace Frehley – appeared onstage together for the first time ever. For Kulick, the event also added another notch to his belt: Other than Gene Simmons and Paul Stanley, he is now the only Kiss alumni to have shared a stage with every past and present member of the band.
Now, in a new interview, Kulick also shares some behind-the-scenes details about his performance with Frehley and the ever-reclusive Vincent, including the fact that he only found out they would be playing to a backing track an hour before the show.
"I know how he feels about drummers too, because every time I hammered [a member] of his team about, 'Why can't we have a drummer?' he'd be like, 'He only likes two drummers, Eric Carr and a drum machine,' " Kulick told Ultimate Classic Rock. "Well, I guess that means we're playing with a drum machine because, sadly, Eric Carr is not alive."
As for Vincent's 15-minute unaccompanied guitar solo that opened the set? Kulick was as enthralled as the rest of us watching it unfold.
"I'd go, 'Ooh, that's a good part," and then I'd think, 'Well, where's he going? What's he thinking?' – because I'm analyzing it as a guitarist," he said. "But I think it was important for him. Apparently, he used to shred through Kiss guitar solos back during the Lick It Up tour. So I guess this has been him all along."
You can read a recap of Kulick's Creatures Fest set with Vincent and Frehley, as well as watch fan-filmed footage, here.