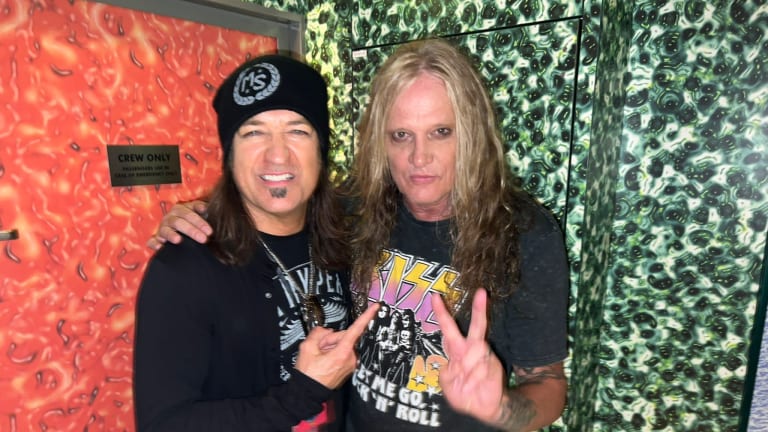 Exclusive: Sebastian Bach and Stryper's Michael Sweet bury long-standing feud onstage on the Kiss Kruise
After years of bad blood, the singers come together by performing Kiss and Van Halen covers
While the Kiss Kruise has been, for all intents, a coming together of rockers of all stripes to celebrate the music we love (and, of course, Kiss!), an under-the-radar feud has existed for years between two of this year's attendees and performers: Sebastian Bach and Stryper's Michael Sweet.
According to Sweet, the spat had its origins in an incident where he was asked by record label Frontiers to produce a Sebastian Bach record, which didn't pan out. In a Facebook post, Sweet explained that he was then "asked about this in an interview with Eddie Trunk and I shared (respectfully) what had transpired. Later that evening, SB tweeted and emailed me and said 'shut your mouth or I'll shut it for you.' "
Fast-forward to 2016, when the Stryper front man posted a video of singer Moriah Formica performing the signature Skid Row power ballad, "I Remember You." In the process of praising Formica's performance, Sweet also called Bach a "tool." Never one to let a slight slide, Bach retaliated on Twitter, writing, "Michael Sweet has a big fucking mouth. Behind a keyboard that is. Can't wait to see this pussy in person again someday."
That day came yesterday.
Brought together by our very own Paul Gargano, Bach and Sweet not only buried the hatchet in private, but then took their new found lovefest to the stage, with the two singers joining together during Bach's solo set (which featured his band, consisting of guitarists Todd Kerns and Brent Woods and drummer Brent Fitz, as well as a guest appearance from Tracii Guns), to perform Kiss' version of "God Gave Rock 'n' Roll to You" and Van Halen's "Ain't Talkin' 'Bout Love" for the Kiss Kruise faithful.
Said Bach from the stage, "In the spirit of rock and roll music… We've only got one life, we're lucky to be here - from our Lord Jesus, God, I'm being totally serious right now… Ladies and gentlemen, I'd like to welcome to the stage Mr. Michael Sweet of Stryper. Rock 'n' roll brings us together, that's what rock and roll does, let's hear it right now… Life is too short!"
Following the performance, Sweet and Bach sat down with Gargano to discuss what had transpired. 
As for how the whole thing happened? "The internet happened," Bach said. "Every single headline is, this guy said this about this guy, this guy said this about this guy. It's not about the new record, it's not about the new video. It's about this guy called this guy a name. And everybody reads shit about themselves online that they don't like, and then they they say something back. So it never ends."
Added Sweet, "You know, one thing said is maybe misconstrued or misunderstood, and another thing is said in retaliation, and then it heats up and people start fueling the fire and it just becomes a nightmare. That's what happened. And it went on for a long time and today was the day that we put all that aside, buried the hatchet and said, 'This is stupid.' " 
Regarding the two songs they performed together, Sweet said, "Originally Sebastian wanted to do 'God Gave Rock 'N' Roll to You' because he felt like with us coming together it was a perfect song."
"It was about the words," said Bach. "God gave rock 'n' roll to you, put it in the soul of everyone."
Continued Sweet, "But then I think everyone started talking and realizing like maybe not everyone knew that song as well as they should have. [laughs] So we moved on and decided to do 'Ain't Talkin' 'Bout Love' and possibly [Queen's] 'Tie Your Mother Down.' 
"Then when I went up onstage, they went into 'God Gave Rock 'N' Roll to You.' And I didn't spend time on the song, learning it. So it was a panic moment. So I pulled the phone out of my pants. And then I look over and there's Paul [Stanley] over there like, 'What is going on?' "
Added Michael's brother, Stryper drummer Robert Sweet, "Of all people to be watching this show! But you know, both songs were great. 'Ain't Talkin' 'Bout Love' sounded fantastic. And really, what we're talking about is love. Love forgives all. And that's what today was about."  
"Life is too short," Bach said. "I don't wanna fight with anybody. There's enough rotten shit in the world. We don't need rock and roll to piss us off! Rock 'n' roll is supposed to be fun."
(l-r) Brent Woods, Michael Sweet, Tracii Guns, Sebastian Bach, Brent Fitz, Robert Sweet