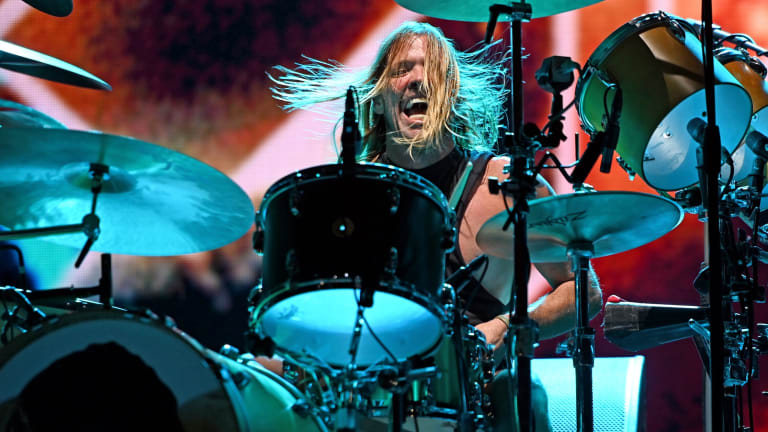 Foo Fighters drummer Taylor Hawkins has died at age 50
'The Foo Fighters family is devastated by the tragic and untimely loss,' the band wrote in a statement
Foo Fighters drummer Taylor Hawkins died on March 25 at the age of 50. The band, who were scheduled to perform in Bogota, Colombia the same night, confirmed the news.
"The Foo Fighters family is devastated by the tragic and untimely loss of our beloved Taylor Hawkins," the band wrote in a statement posted to their social media accounts. "His musical spirit and infectious laughter will live on with all of us forever. Our hearts go out to his wife, children and family, and we ask that their privacy be treated with the utmost respect in this unimaginably difficult time."
News of Hawkins' passing was met with an immediate outpouring of sadness and tributes across social media. Among his musical peers, Rage Against the Machine guitarist Tom Morello wrote, "God bless you Taylor Hawkins. I loved your spirit and your unstoppable rock power. Rest In Peace my friend."
Alice Cooper wrote: "I got to know #TaylorHawkins thru both the Foo Fighters and his band Chevy Metal and was blessed to share the same stage with him a handful of times. Taylor drove both bands like a semi truck. There's no one else like him. He was one of the great characters in Rock N Roll, beloved by all who knew him, and certainly one if the greatest drummers of his time. My band and I are devastated by this news and we will truly miss him. Much love from us to the Hawkins family and to the Foos and Chevy family."
Ozzy Osbourne shared his own thoughts, writing, "@TaylorHawkinsOfficial was truly a great person and an amazing musician. My heart, my love and my condolences go out to his wife, his children, his family, his band and his fans. See you on the other side - Ozzy"
Wolfgang Van Halen recalled meeting Hawkins ten years ago, writing, "I'll never forget meeting Taylor on tour in San Diego in 2012. He was such a ridiculously kind man. The dude just emanated cool. Him, my pops and I talked for as long as we could until we had to leave. An incredible drummer and singer, he was a constant inspiration to me throughout my entire life. This is like a kick in the gut. My most heartfelt condolences go out to his family. You'll be so sorely missed, Taylor. Rest In Peace."
Former Dream Theater drummer Mike Portnoy, meanwhile, posted, "In absolute shock & disbelief over the the passing of Taylor Hawkins. I've always had so much admiration for him. Amazing drummer & a gem of a guy who was always fun to be around. I'm absolutely gutted..."
Metal Edge extends our deepest condolences to Hawkins' family, friends and band mates.