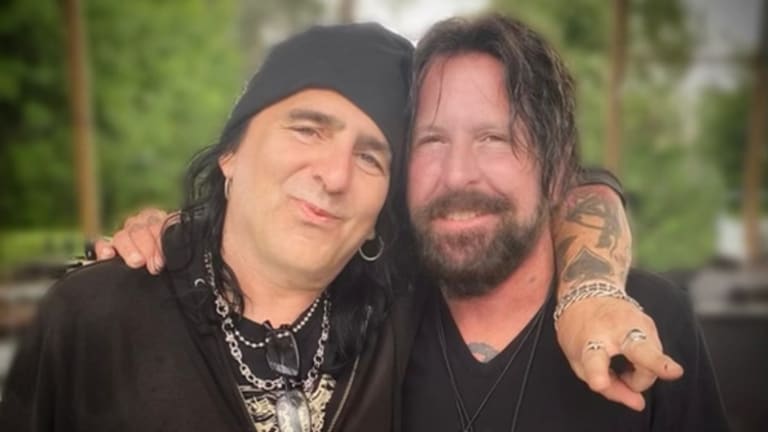 L.A. Guns and Faster Pussycat take a bite out of the Big Apple
Two Hollywood favorites give Times Square a Sunset Strip makeover
The calendar may have said it was Monday night in New York City, but it felt like Friday night in Sony Hall on June 6, when L.A. Guns and Faster Pussycat co-headlined the packed Times Square club. Currently on the road with the Tom Keifer Band through the end of July, the two Hollywood institutions are spending a lot of their Sonic Slam off nights together - and judging from the response in NYC, it's a can't-miss night of music in its own right.
Faster Pussycat took the stage first, making a triumphant return to the city that never sleeps, and their first visit with guitarists Sam "Bam" Koltun and Ronnie Simmons. Taime Downe's man-in-black stage persona lies in contrast to the more affable nature of Guns frontman Phil Lewis, but their sets mesh almost poetically. Pussycat delivered grit and grime with their new singles "Nola" and Johnny Thunders cover "Pirate Love," while their L.A. stage mates countered with the frenetic and hyperactive opener "Cannonball" from latest release Checkered Past and the full throttle overdrive of "Speed" from 2017's The Missing Peace.
Guitarists shared the spotlight in both sets. Tracii Guns yet again showed his chops as arguably the most underrated player to emerge from the '80s Hollywood scene, and former Faster six-stringer Ace Von Johnson and bassist Johnny Martin complimented each other perfectly, occupying the other side of the stage like they were born to be there. For Faster Pussycat, Koltun and Simmons are electric, in a few short shows together already demonstrating a chemistry that might go down as TaIme Downe's most formidable guitar coupling ever.
L.A. Guns packed their 13 song set with 10 tracks from their first three albums - including "Over the Edge," "It's Over Now" and "Kiss My Love Goodbye" from their brilliant third album Hollywood Vampires, four from their self-titles debut, and three from sophomore release Cocked & Loaded.
In addition to their two new singles, Faster Pussycat represented all four of their full-length studio releases, including seven cuts from their self-titled debut and Wake Me When It's Over, opener "Jack the Bastard" from Whipped! and "Number 1 with a Bullet" and "Shut Up & Fuck" from 2006's hidden gem The Power and the Glory Hole. Set favorite "Bathroom Wall" even featured bassist Danny "Enjoy Me" Nordahl taking over vocals for a mid-song detour through the Supersuckers staple "Pretty Fucked Up."
Today's Sunset Strip is a far cry from the halcyon days of yore, but it was flashback Friday for New York City - guitars, grit, grime and glam. It was a night of rock the way we all love to live it.
FASTER PUSSYCAT SETLIST
Jack the Bastard
Cathouse
Slip Of The Tongue
Don't Change That Song
Ain't No Way Around It
Pirate Love
Number 1 With A Bullet
Nola
House of Pain
Bathroom Wall / Pretty Fucked Up
Shut Up & Fuck
Babylon
L.A. GUNS SETLIST
Cannonball
Electric Gypsy
Over the Edge
It's Over Now
Sex Action
Gone Honey
One More Reason
Speed
Kiss My Love Goodbye
Never Enough
No Mercy
The Ballad of Jayne
Rip and Tear