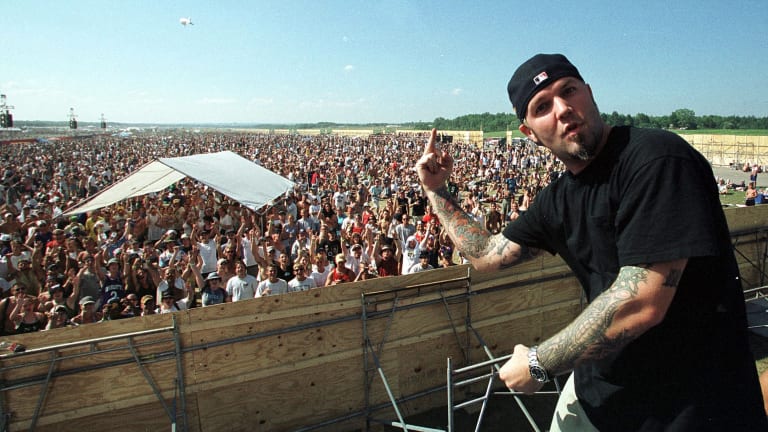 Limp Bizkit didn't ruin Woodstock '99 – greed did
Blaming Fred Durst & Co. is 'like blaming a bear for being a bear'
Fred Durst didn't ruin Woodstock '99. Greed did.
The drive-by narrative is things went south immediately after Limp Bizkit launched into "Break Stuff." Yes, the festival crowd turned into a human tsunami as soon as they heard that rap-metal hit, with its car-crash riffs and lyrics about physically venting frustrations. And there was Durst, the band's backwards-hatted frontman, crowd-surfing aboard plywood the audience had ripped from a facility structure. An iconic image of a festival teetering on the brink.
That was Saturday, though. July 24, 1999 to be exact. As the new Netflix docuseries Trainwreck: Woodstock '99 depicts, the festival didn't devolve into nightmarish fires and subhuman chaos until its third night. Sunday, during and after Red Hot Chili Peppers' festival-closing set, that's when the real bad shit went down. The scene got scary enough that MTV rushed their on-air talent and crew out of the festivals grounds – a former Air Force base in Rome, New York – like it was a warzone. And it had become a warzone. Rioting, burning, looting, raping, madness.
The Chili Peppers got their share of flack for Woodstock '99. Particularly for playing their Jimi Hendrix Experience cover, "Fire," after some fans had already started fires in the crowd, using candles passed about for an anti-gun-violence vigil, which itself was not a great idea in this context.
Rap-metal as a whole was dinged, for the genre's aggro-to-the-max sound and mindset. And indeed, rap-metal was at the peak of its commercial appeal and cultural influence. Limp Bizkit, Korn, Kid Rock and Rage Against the Machine were cornerstones of the festival's booking.
That said, Woodstock '99 wasn't just rap-metal. Other headliners included Alanis Morrissette and Wyclef Jean. Still, it was a vastly heavier emphasis than the hippie zeitgeist performers at the original 1969 Woodstock, like Santana and Janis Joplin.
But most of the blame for Woodstock '99 fell on Limp Bizkit. Including by John Scher, who, along with Michael Lang, the curly-haired cofounder of the original Woodstock, were the festival's promoters. In the Trainwreck doc, Scher says, "I didn't take into account what a jerk Fred Durst is. He was enjoying it. Fred could've quieted them down in a minute, but instead he was riling up the crowd."
Durst's between song banter before "Break Stuff" encouraged fans to release their negative energy. But he also told them to look out for each other.
By then, Woodstock '99 attendees' frustrations were boiling after two days of high temperatures, price gouging (particularly for water, which fans weren't allowed to bring into the festival) and squalid conditions (overflowing Porta Pottys, trash everywhere).
In 2022, festival goers would take to social media to tear apart a festival because of lousy conditions. But in 1999 social media didn't exist, so the Woodstock '99 throng tore apart the actual festival. Trainwreck asserts that, while toxicity is in the crosshairs of today's culture wars, in the late '90s it was celebrated. This was the era of Fight Club, Clinton/Lewinsky and Girls Gone Wild.
But really, as the Woodstock '99 crowd intensified, what was Limp Bizkit supposed to do? Play an acoustic cover of the 1966 Youngbloods hit "Get Together"? As Limp Bizkit's former manager Peter Katsis says in Trainwreck, "Pointing the finger at Fred is about the last thing anybody should do. There really isn't a way to control 300,000 people. The best thing he could do is put on the best show possible, and that's what he did."
The buzzed-about Trainwreck, directed by Jamie Crawford, is the second major Woodstock '99 documentary, following Garret Price's 2021 HBO film Woodstock 99: Peace, Love, and Rage. The two docs share some of the same interviewees, including Lang, Korn frontman Jonathan Davis and pop-folk singer Jewel. Trainwreck also chats with the likes of Scher, Katsis, Bush frontman Gavin Rossdale, British deejay Fatboy Slim, former MTV VJ Ananda Lewis, several concertgoers who were youths back then, and a range of Woodstock '99 staff.
Durst is noticeably absent from both documentaries. But in a 2019 interview with Variety, Durst said, "It's easy to point the finger and blame [us], but they hired us for what we do and all we did is what we do. I would turn the finger and point it back to the people that hired us." In that same Variety interview, Durst added, "We were there having a good time. Hey, everybody was having a good time as far as we knew. That's the truth."
Through interviews and footage, Trainwreck makes the case Woodstock '99 cut corners on security and providing a safe, reasonably comfortable setting. The video for Limp Bizkit's next single, "Re-Arranged" depicted the band imprisoned and on trial for their Woodstock '99 performance. The verdict? Guilty.
There hasn't been another Woodstock since 1999. That was the fest's third iteration, following a gate-crashed, mud-doused Woodstock '94 featuring alt-rockers like Nine Inch Nails, Blind Melon and the Cranberries. With Lang's death in 2022 at age 77 from cancer, another Woodstock seems unlikely.
Formed in mid '90s Jacksonville, Florida, Limp Bizkit's first three albums went multi-platinum. The band's sound drew from sources like Rage Against the Machine, Pantera and License To Ill. Limp Bizkit's fortunes didn't immediately fade after Woodstock '99. The next full album Limp Bizkit released after the festival was 2000's Chocolate Starfish and the Hot Dog Flavored Water, which sold light-speed fast, topping more than 8,000,000 copies.
Unfortunately the band was involved in another concert controversy. During their 2001 set at Australia's Big Day Out festival, a teenage concertgoer died amid another wild big crowd, suspect security and accusations that Durst could have handled the situation better. Limp Bizkit's next album, Results May Vary, released in 2003 without guitarist Wes Borland in the band, saw a steep sales drop off, although it still moved more than a million units. Sales for Limp Bizkit's next few releases sold dramatically less, and the band went on hiatus. In 2011 they reunited for the well-received album Gold Cobra, and have performed intermittently and released another album in the years since. A 2022 European tour was postponed due to Durst's unspecified health concerns.
Limp Bizkit's peak work, like the irresistible sucker's-anthem "Nookie," has aged better than nu-metal haters could have ever imagined. Twenty-five years since their relentless debut LP, Three Dollar Bill, Y'all, the band is enjoying a wave of nostalgia and interest. Perhaps now, through the lens of Trainwreck, Limp Bizkit will finally escape the scapegoat shadow of Woodstock '99. As one of the stage-security staff says in the doc, "I don't think you can blame Limp Bizkit for being Limp Bizkit. It's like blaming a bear for being a bear."