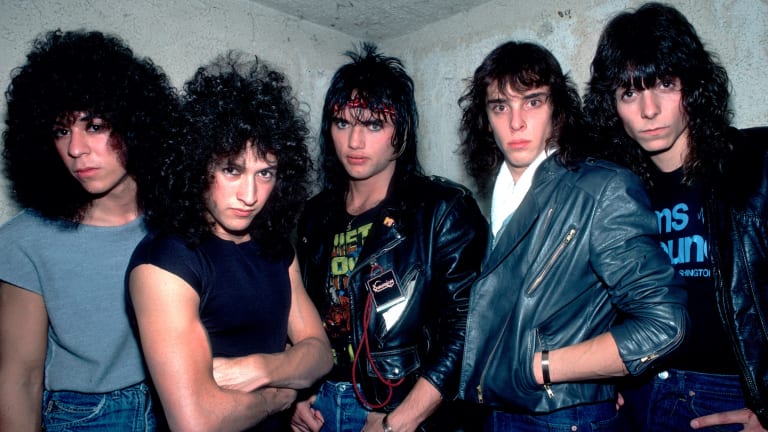 Michael Wilton recalls the making of Queensrÿche's debut EP
'We wanted to write loud rock 'n' roll and loud metal,' the guitarist says
The 1980s proved to be a golden era of hard rock and metal artistically as well as commercially. But in the earliest days of the decade, things didn't look so rosy for heavy, guitar-driven acts when it came to gaining ground in the mainstream music world. This was certainly the case for Queensrÿche, who were just starting out in the Pacific Northwest, having begun life as a cover band called The Mob. 
"The whole scene back then was pop radio and there wasn't a lot of metal," guitarist Michael Wilton told us. "All the metal was coming from England and Europe so we were listening to the imports that came in from the likes of Judas Priest, Iron Maiden, Tygers of Pan Tang, Accept and all these bands that you could only get their albums that way."
Nevertheless, the band opted to try their hand at some original material, and worked day jobs to earn the money to record a 24-track demo, which they released independently. "We wanted to write loud rock 'n' roll and loud metal, and we made a conscious decision to do a four-song EP of original music," Wilton says. 
That four-song demo became the now-famous Queensrÿche EP, boasting classic QR cuts like "Queen of the Reich" and "The Lady Wore Black."
"We went into Triad Studios in Redmond, Washington, and because we didn't have a lot of money, we had to record during the graveyard shift, which was from 12 to six in the morning," Wilton explains. "But that's where we created the first four songs."
He continues, "We released it on our record label, 206 Records, which was actually the local telephone area code. We sold 60,000 units of that EP and then we were scooped up by EMI Records. The 206 Records pressing actually came out in 1982 and then the pressings from 1983 onward were changed to EMI Records on their covers."
Queensrÿche supported the EP opening for the likes of Twisted Sister, Quiet Riot and Dio, and then headed into the studio to begin work on their major-label debut. That record, The Warning, was released in 1984, and the rest, as they say, is hard-rock history.