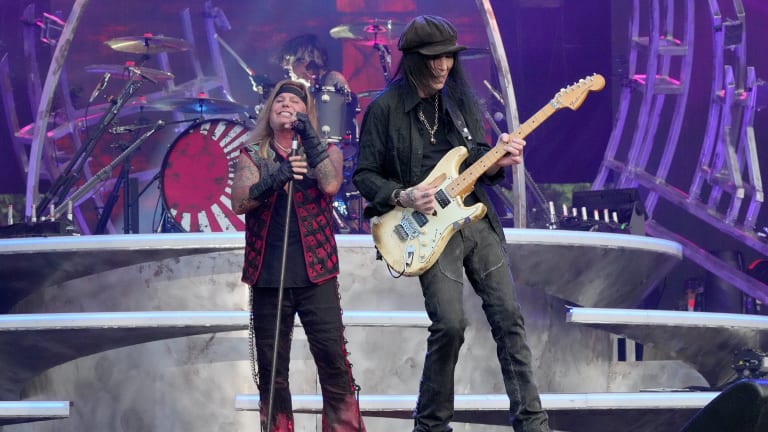 Mick Mars will no longer tour with Mötley Crüe
The guitarist 'can no longer handle the rigors of the road,' according to an official statement
After much speculation, the news has been announced that Mick Mars will no longer tour with Mötley Crüe. The guitarist will, however, remain a member of the band. A rep for the Crüe confirmed the news to Variety.
The full statement reads: "Mick Mars, co-founder and lead guitarist of the heavy metal band Mötley Crüe for the past 41 years, has announced today that due to his ongoing painful struggle with Ankylosing Spondylitis (A.S.), he will no longer be able to tour with the band. Mick will continue as a member of the band, but can no longer handle the rigors of the road. A.S. is an extremely painful and crippling degenerative disease, which affects the spine.
While no official word has been given on Mars' replacement, there has been much speculation, first reported by Metal Sludge, that former Rob Zombie guitarist John 5 will take his place in the band onstage.
Despite a stellar showing on this summer's The Stadium Tour, Mars, now 71, has long struggled with chronic health conditions, most prominently ankylosing spondylitis. But John 5 appeared to personally squash the rumor when, as reported by MetalSucks, a fan, commenting on an old photo of Mars and John 5, asked the guitarist on social media if was indeed joining Mötley Crüe and he wrote back, "No, just a rumor."
With the recent announcement of a massive Mötley Crüe/Def Leppard 2023 outing, The World Tour, we await an offficial reveal on who will fill Mars' prodigious shoes. 
The World Tour kicks off February 18 in Mexico City and wraps July 16 in Glasgow, Scotland. You can get full dates here.