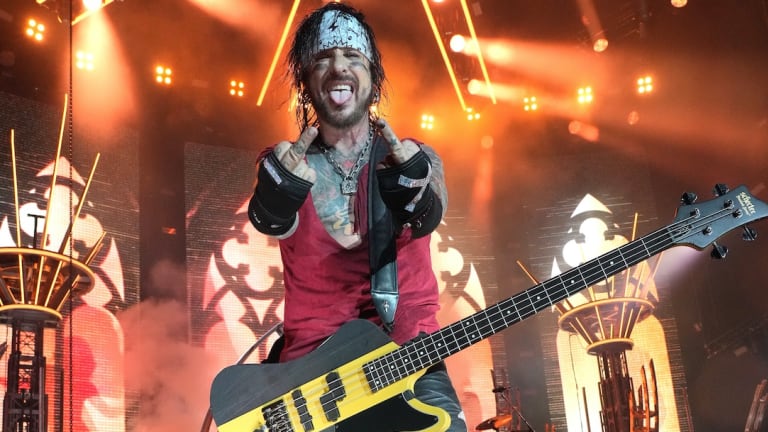 Nikki Sixx responds to former Hanoi Rocks guitarist Andy McCoy calling him a 'second-class citizen'
'He's just trying to sell a book, album or club tour,' the Mötley Crüe bassist says
Former Hanoi Rocks guitarist Andy McCoy has been making his rounds on the PR circuit recently to promote his new covers album, Jukebox Junkie. And on more than one occasion, talk has turned to Nikki Sixx and Mötley Crüe, who the guitarist has repeatedly criticized in the years since Hanoi Rocks drummer Nicholas "Razzle" Dingley was killed in a 1984 car crash where Crüe singer Vince Neil was at the wheel.
McCoy has in the past claimed that Neil never apologized for the fatal accident. And in a new interview with IndiePower, he took aim at the Mötley Crüe bassist, saying (transcribed by Blabbermouth), "I'm not a farm boy like Nikki Sixx. I'm from the inner city. And I can't stand bullshit. Like his books – full of lies. I saved the guy's life."
Regarding this last statement, McCoy seems to be referring to an incident detailed in the Mötley autobiography The Dirt, where Sixx recounted that a drug dealer once beat him with a baseball bat to try to resuscitate him after a heroin overdose.
McCoy recalled the incident differently: "I mean, I used to play baseball," he said. "You think someone would survive if I [hit] him with a baseball bat? Hell no! Hell no, man."
He continued, "I fucking got him revived, got his heart beating again. And the thank you I've gotten has been 'de nada.' I mean, de nada. And that makes him a second-class citizen in my eyes. 'Cause he only thinks about the buck."
Now, Sixx has responded to McCoy, taking to Twitter to accuse the guitarist of using his name merely to further his own career. "Andy Mcoy has been on a rant saying I never thanked him for saving my life after a heroin overdose," Sixx wrote. 
"It's true. I also never thanked him for getting me the drug's during my deadly addiction that night..I get it, he's just trying to sell a book ,a album or club tour…"