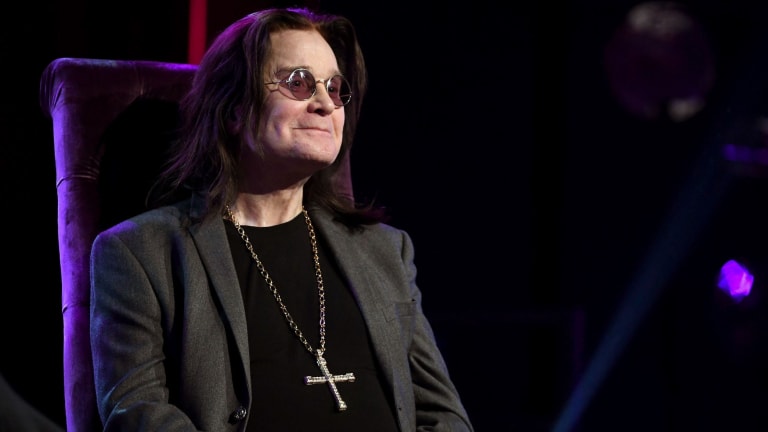 Ozzy Osbourne says he is 'recuperating comfortably' following major surgery
The Ozzman went under the knife to remove and realign pins in his neck and back
Two days after undergoing surgery to remove and realign pins in his neck and back, Ozzy Osbourne has issued a statement saying that he is "recuperating comfortably."
The 73-year-old legend went under the knife on June 13 for a surgery that his wife and manager Sharon Osbourne characterized as "really going to determine the rest of his life."
Osbourne has suffered health problems for years, and recently discussed an upcoming neck surgery that would help to alleviate day-to-day pain and discomfort. "I can't walk properly these days," he said. "I have physical therapy every morning. I am somewhat better, but nowhere near as much as I want to be to go back on the road."
Post-surgery, Sharon issued an update on Ozzy's condition, saying that he's "doing well and on the road to recovery."
Now, the Ozzman himself has taken to Twitter to share his own message. "I am now home from the hospital recuperating comfortably," he wrote. "I am definitely feeling the love and support from all my fans and send everyone a big thank you for their thoughts, prayers and well wishes during my recovery."
Despite his health issues, Ozzy recently managed to complete his 13th full-length studio album, writing on social media, "I'm so happy to let everyone know that I finished my new album this week and delivered it to my label Epic Records. I'll be sharing all the information about the album and its upcoming release with you in the next several weeks."
Like 2020's Ordinary Man, he recorded the still-untitled effort with producer Andrew Watt, with contributions from Guns N' Roses bassist Duff McKagan and Red Hot Chili Peppers drummer Chad Smith. Other musicians reported to have taken part this time around include longtime Ozzy guitarist Zakk Wylde, Metallica bassist Robert Trujillo, Ozzy's Sabbath bandmate Tony Iommi, Eric Clapton, Jeff Beck, Pearl Jam guitarist Mike McCready and Queens of the Stone Age front man Josh Homme.
In an interview on the Graham Norton Radio Show, Sharon confirmed that the album will be released in September.