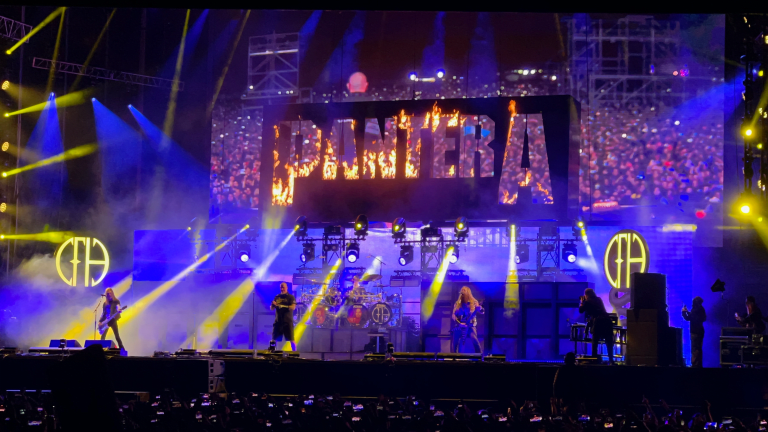 Pantera are back, and Metal Edge was there: Read our on-site report, with exclusive video
Paul Gargano on a "magical" night in Mexico City
I couldn't have been more blown away by what I witnessed in Mexico City tonight. Knowing all four of the guys for longer than I can remember, I had no doubt that they'd do the legacy of Pantera justice. But they went far beyond a tribute, truly bringing the music of Pantera back to life in a way I never thought would be possible after the tragic losses of both Dimebag Darrell and Vinnie Paul.

Phil Anselmo and Rex Brown looked and sounded like they stepped out of a time machine. Rex didn't say a word, and he didn't have to - his bottom end every bit as electric as always. And Philip was in top form, as genuinely grateful as I've ever known him to be bringing their music back to life in front of new generations of Pantera fans.

I was standing with Carla Harvey and Heidi Shepherd of the Butcher Babies for much of the show, and after "Fucking Hostile" they both looked like they'd just seen the Beatles on Ed Sullivan. "We've been covering that song for so long, I never thought I'd get to see this!" Heidi beamed after the four brothers tore through "Fucking Hostile." And that is the true magic of these performances.

Drowning Pool singer Jasen Moreno recently told me that he never thought he'd be able to experience the music of Pantera live with his sons, but now he can. And when he does, he's going to see a performance that does both Dime and Vinnie proud. Charlie Benante was always the obvious choice on drums, and he proved why, a revelation and a flawless timekeeper and force of nature behind the kit. If you closed your eyes, you heard Vinnie Paul and his brother Dime. Like Charlie, Zakk transformed himself in Mexico City. He scaled back the Zakk we know and love and brought his guitars to life as if he was channeling the late shredder. From his refined play to his understated presence, at times it almost felt like we could be watching the fallen icon whose portrait was pictured alongside his brother on Charlie's kick drums.

I'm one of those easily jaded industry guys that has been blessed enough to have seen it all. But tonight I saw something I never thought I'd see - and something I can't wait to see again. It was magical. And I can't be prouder of Phil, Rex, Charlie, Zakk, Dime and Vinnie for the history, legacy and tribute that I was lucky enough to experience in Mexico City.

A lot will be said by those who weren't there, but speaking on behalf of all of us who were, it was more than just fucking hostile. It was like we stood at the cemetery gates, felt this love for Pantera that's been living inside us all, received strength beyond strength standing together as a metal family, and took Pantera to a new level. We will all walk a little taller knowing that the cowboys from hell are back again.

Guys, thank you!
You can check out Pantera performing "Walk" above and "This Love" below.