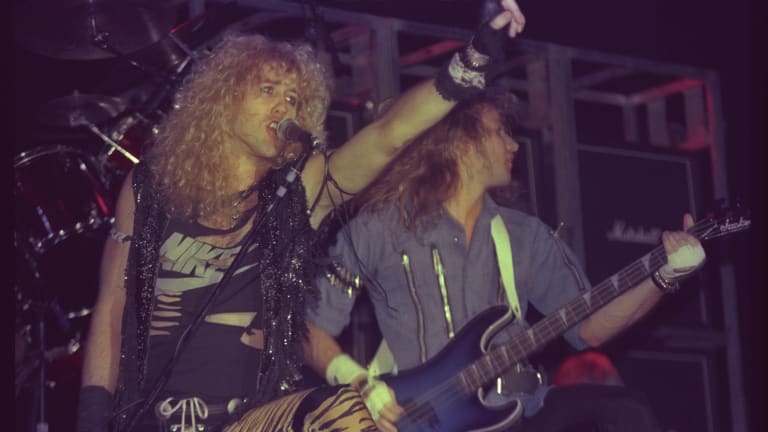 Premiere: Black 'N Blue unearths first-ever song, 'Give Em the Old 1, 2, 3'
Previously unreleased 1981 track will be available on new L.A. glam compilation, 'Bound for Hell: On the Sunset Strip'
Bound for Hell: On the Sunset Strip, a new compilation that shines a spotlight on early '80s L.A. glam, is out October 28 via Numero Group. We recently shared the track "Bound for Hell" by Max Havoc – a band formed in 1981 by Pat McKeon and featuring, at one time, Quiet Riot's Carlos Cavazo and W.A.S.P.'s Tony Richards – and now we're proud to premiere another new cut from the comp: Black 'N Blue's previously unreleased "Give Em the Old 1, 2, 3."
Says singer Jaime St. James," 'Give Em the Old 1, 2, 3' is the very first song written and recorded by Black 'N Blue in 1981. This is also the year I went from drummer to singer."
He continues, "I'm looking forward to the release of this awesome box set as the Numero Group have done a great job with gathering killer, almost-lost music from back in the day with fantastic packaging. Enjoy!"
For those in the know, Black 'N Blue decamped from Portland, Oregon, to L.A. in 1982 and landed a slot on Brian Slagel's inaugural Metal Massacre comp alongside other newbies including Metallica, Ratt and Bitch. The band was then signed to Geffen Records by legendary A&R man Jeff Kalodner, and released four major label albums between 1984 and 1988, including the Gene Simmons-produced 1986 effort, Nasty Nasty. B'NB guitarist Tommy Thayer eventually went on to replace Ace Frehley in Kiss.
Bound for Hell, meanwhile, features scene heavyweights like Armored Saint and Lizzy Borden alongside long-lost tracks from Reddi Killowatt, Angeles, SIN, Stormer and Romeo. The collection's 21 tracks are spread across two LPs, with extensive liner notes from music critic and co-author of Louder Than Hell: The Definitive Oral History of Metal, Katherine Turman, as well as first-hand testimonials, photos and show flyers.
The compilation can be pre-ordered in a variety of formats here.