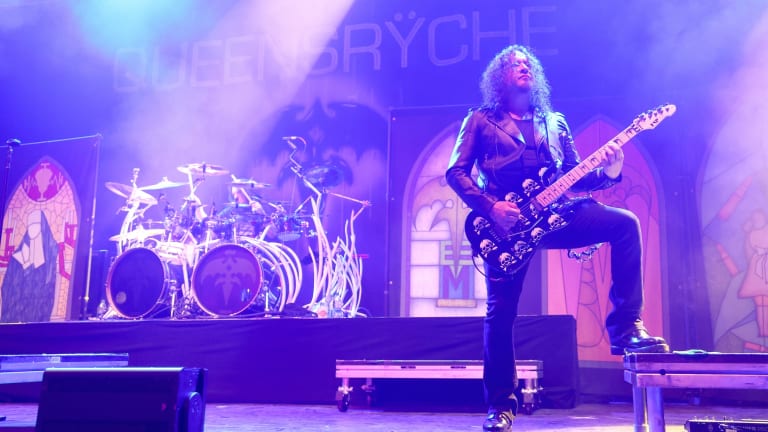 Queensryche's Michael Wilton and Eddie Jackson accuse former drummer Scott Rockenfield of 'abandoning' group
Countersuit claims Rockenfield skipped out on live dates and recording sessions, accessed band funds for personal use and more
Back in October, estranged Queensryche drummer Scott Rockenfield filed a lawsuit against his band mates alleging breach of contract, breach of fiduciary duty and wrongful discharge, among other misconduct, after Rockenfield took a leave of absence from the band when his fiancée experienced complications during the birth of their son.
Rockenfield claimed that following his paternal leave, which was approved by the band, he was illegally removed from the band's businesses and should have retained a one-third interest in all Queensryche companies alongside the other remaining original members, guitarist Michael Wilton and bassist Eddie Jackson.
Now, Wilton and Jackson have responded to Rockenfield's suit with a counterclaim. In their filing (via Blabbermouth), the two deny that Rockenfield was wrongly dismissed, and state he left under short notice and failed to assist in helping the band find a replacement. 
The filing reads: "Queensryche was in the middle of a tour and was contractually obligated to play a number of live concerts, including an upcoming April 1, 2017 concert in California, to be followed by several concerts in the U.S. scheduled for April and May, and that Queensryche, including Rockenfield, had agreed and were scheduled in June 2017 to play 13 live shows at different venues across Europe. Rockenfield's sudden departure required Jackson and Wilton to locate and hire a drummer so that the band could comply with their contractual touring obligations."
Additionally, the countersuit states that Rockenfield only sporadically responded when approached to participate in the recording of 2018's The Verdict, leading then to find a replacement, Casey Grillo, to assist with the album. "Queensryche had to have a declaration from Rockenfield as to whether or not he intended to participate in recording on the band's album," the filing reads. "Rockenfield was informed by Queensryche management that due to his continued obfuscation, that his failure respond with anything other than a commitment to rejoin the band for their album, would necessarily be deemed a 'no.' Rockenfield subsequently acquiesced to Queensryche hiring another drummer to take Rockenfield's place."
Finally, Wilton and Jackson claim that Rockenfield did not help to generate income to pay off a loan the band had taken out to settle their lawsuit with former vocalist Geoff Tate, and also accuse the drummer of "intentionally and wrongfully withdrawing $10,000.00 in cash from Queensryche without permission," which they say was done for his personal use, and that he "intentionally and wrongfully charg[ed] personal expenses to his Queensryche company credit card."
Wilton and Jackson claim that Rockenfield had been given notice of a 2018 meeting scheduled to discuss his standing in the band. The day before the meeting, Rockenfield texted Wilton and Jackson to request attending by telephone, which was granted. According to the document, "After waiting for in excess of an hour without Rockenfield either appearing in person or calling to appear telephonically, and, the remaining members constituting a quorum, Rockenfield was formally voted out of the QR companies."

The counterclaim asks the judge to dismiss Rockenfield's suit and declare he abandoned his position in the band. Additional, Wilton and Jackson are asking for "general, special and statutory damages and equitable remedies."
Recently, Rockenfield launched a two-pronged verbal attack on current and former QR vocalists Todd La Torre and Geoff Tate via social media, calling La Torre a "subcontractor," and claiming Tate "needs help."