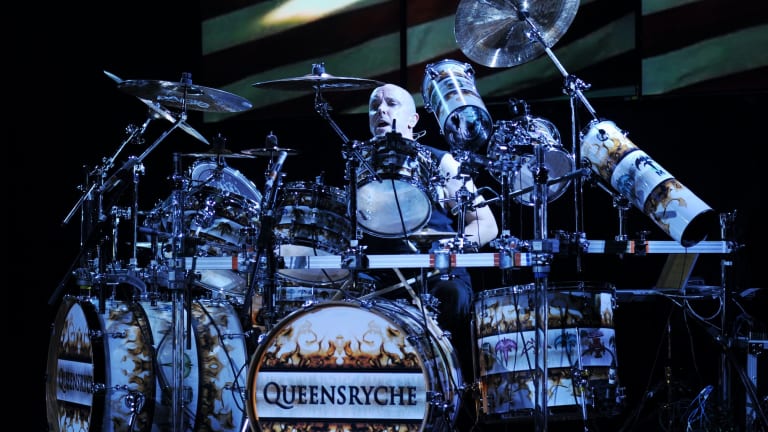 Queensryche's Scott Rockenfield: Current vocalist Todd La Torre is 'subcontractor,' original singer Geoff Tate 'needs help'
The estranged drummer takes aim at QR front men past and present in new Facebook posts
As most Queensryche fans are well aware, there's been plenty of drama in the QR camp over the past decade. But while most of it has been between former front man Geoff Tate, who was fired in 2012, and the remaining original band members, a new front in the war of words has now been opened via original drummer Scott Rockenfield, himself more recently estranged from Queensryche.
On March 1, Rockenfield, who last year filed a lawsuit against fellow Queensryche original members Michael Wilton and Eddie Jackson alleging he had been wrongfully discharged from the band, took to his personal Facebook page to criticize current vocalist Todd La Torre. In the post he wrote:
just a little bit for clarity here...
Subject: Todd La Torre (subcontractor - Queensryche)
Topic: For the record let it be known that "any and all opinions, viewpoints, statements, and/or comments etc etc, that continue to be presented by Mr La Torre (whether it be past/present and/or future) are in no way to be considered as representing the expressed beliefs, opinions, and/or viewpoints of any of the Queensryche brands, trademarks, and/or various QR corporations that have been in place for over 40 years...…"
period....
rock
Rockenfield then followed this up with a second screed, this one aimed at former singer Geoff Tate, who had commented in a recent interview that he doubted whether Rockenfield would ever play drums again, telling Metal Rules that Scott "has a lot of medical problems and things like that now."
In response, Rockenfield wrote:
and, a little bit more for clarity--to set the record a bit more straight if you will...
Subject: Geoff Tate (former QR singer)
Topic: "Former QUEENSRŸCHE singer Geoff Tate expressed his doubt that Rockenfield "will ever play drums again"…??? Tate Including— "he has a lot of medical problems and things like that now."??? …Tate also stating - "He's in kind of a really dark place, and I hope he gets some help, 'cause he's really unraveled, you know?""…??? etc etc…blah blah blah….
Ok wow, how incredibly interesting right?? …(and most of you already figured this out) But, being that I have not seen, spoken too, or communicated with Tate for over 10 years now, those seem to be some pretty BOLD statements to be makin' bout someone (that someone being me - ouchie…! as if spitting wasn't enough lol !!)
One would think that even just a "slightly educated" person should know that making such crazy statements about somebody is probably a bit of a no-no ???? ….…(and don't get me wrong, I'm still smilin'...could all be an exciting gift in disguise from the Universe right ??…) ....Nonetheless, said former singer dude jussst might wanna take a step back and possibly reconsider those statements…???
other than all that, I suppose all I can say is - "I hope dude (tate) gets the help "he" needs"…
Rockenfield's most recent studio album with Queensryche was 2015's Condition Hüman. He did not perform on 2019's The Verdict, leaving vocalist La Torre to handle all drum parts on the recording.