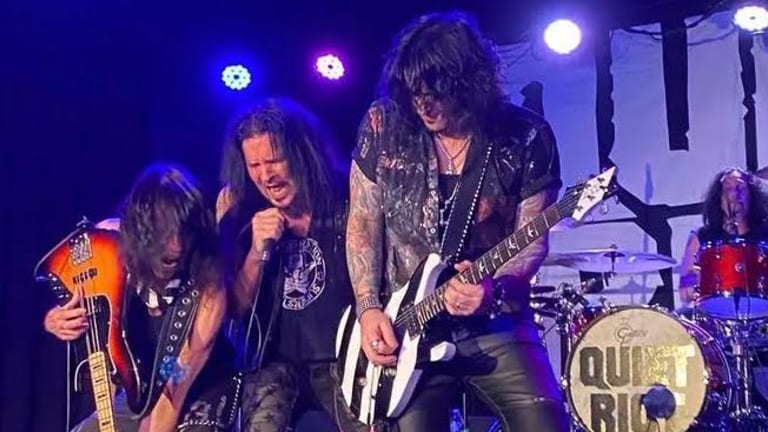 Quiet Riot get 'Crazee' at the Whisky a Go-Go
The Rudy Sarzo-led quartet pay homage to their roots at the historic venue
Sometimes it's easy to forget just how important Quiet Riot were to the development of the Sunset Strip and the overall look and sound of the music we love. But nobody at the Whisky A Go-Go on Saturday night, June 4, forgot. In fact, the sold-out crowd was one of the more raucous I've seen celebrate the timeless spirit of the '80s in the historic venue and, in this case, the band and music that literally paved the way for generations to come.
Introducing the song "Thunderbird," bassist Rudy Sarzo thanked the Whisky for being there for as long as he can remember supporting local bands, and recalled a time when he shared that very stage with singer Kevin DuBrow, guitarist Randy Rhodes and drummer Frankie Banali, all of whom have sadly left us. At times it felt as if Sarzo was leading a tribute act, but in all the best ways.
Frontman Jizzy Pearl tackled the Quiet Riot catalog with a reverence and respect, while still remaining true to the pedigree that earned him the role. The band even returned the favor by dipping into Pearl's Love/Hate catalog for a white-hot run through "Blackout in the Red Room." "Mama Weer All Crazee Now" and "The Wild and the Young" bookended the set as personal favorites, and you can't deny the one-two punch of "Cum On Feel the Noize" and "Metal Health (Bang Your Head)" as closers.
We felt the noise, we banged our heads, and we were wild and young once again! 
SETLIST
Run for Cover
Slick Black Cadillac
Mama Weer All Crazee Now
Sign of the Times
Loves a Bitch
Condition Critical
Thunderbird
Breathless
Blackout in the Red Room
The Wild and the Young
Let's Get Crazy/Crazy Train
Cum On Feel the Noize
Metal Health (Bang Your Head)