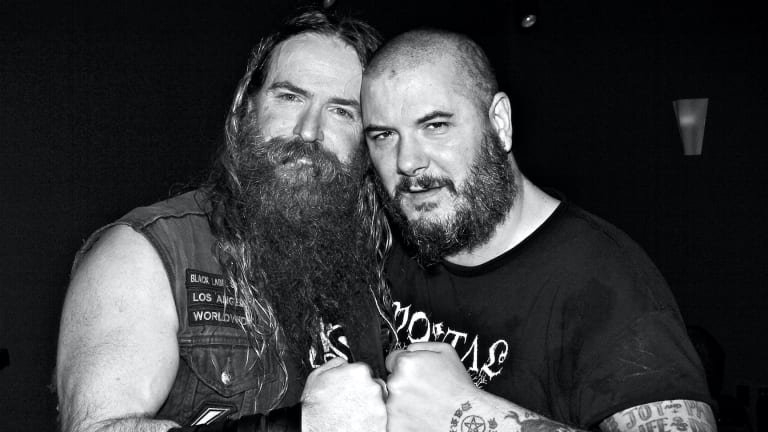 Rumor: Zakk Wylde and Anthrax's Charlie Benante to join surviving Pantera members for 2023 tour
The two musicians are longtime fans and friends of the band
While it was announced on June 13 that, more than 20 years after the band's last show, Phil Anselmo and Rex Brown would be embarking on a Pantera tour in 2023, no word has been given on who would be joining them onstage in place of deceased members Dimebag Darrell and Vinnie Paul.
Now, Blabbermouth has reported that the two musicians rumored to join the surviving members on tour are Ozzy Osbourne guitarist and Black Label Society leader Zakk Wylde and Anthrax drummer Charlie Benante.
Wylde, of course, was close friends with Darrell for decades, once saying of the Pantera guitarist, "If he didn't play guitar, he'd still be one of your best friends, just because he was a sweet guy." As for his importance as a musician, Wylde continued, "He was as groundbreaking with his riffs as Tony Iommi was with his — he was the architect of the template for that style of music."
Similarly, Benante, who in 2019 joined Philip H. Anselmo & The Illegals onstage in Las Vegas to perform Pantera's "Strength Beyond Strength" and "Goddamn Electric," has publicly expressed his love for Pantera through the years, once stating that he believed they should be held in the same esteem as Anthrax and their Big Four thrash brethren.
"I think that if Metallica, Anthrax, Slayer and Megadeth had a baby, it would have been Pantera," he said. "Pantera was like Van Halen, reborn. The brothers [Dimebag and Vinnie Paul], growing up together and playing together, like the Van Halen brothers, that's a god-given gift."
Benante also praised Paul's "distinct sound," and recalled the times that Anthrax and Pantera shared bills, saying, "We always had great times together. We were living in a time before the Internet, [when] it was all about fun and about the experience. They were great days. Every day on tour, it was just a circus, but it was a fun circus. Vinnie was all about having fun! Him and his brother, they had a warped sense of humor, but they always wanted your experience to be great."