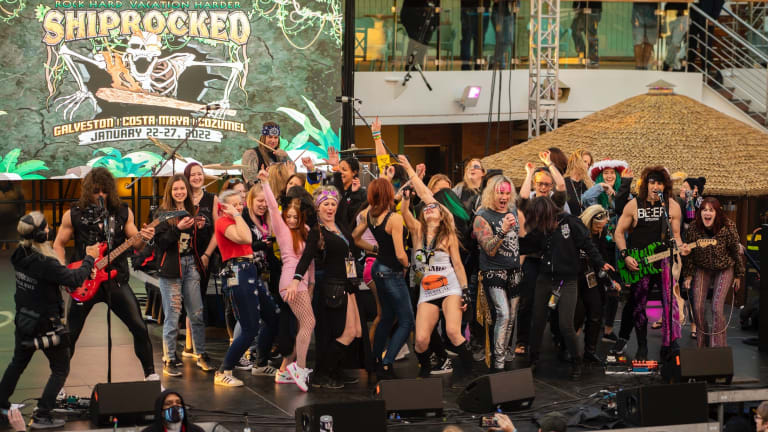 ShipRocked 2022: Metal Edge boards the Carnival Breeze for 5 nights of music and mayhem on the high seas
Rock hard? We did it. Vacation harder? Mission accomplished
Five nights. Dozens of bands. More than a hundred performances and special events. Ports of call in Cozumel and Costa Maya. Beach parties. Late night karaoke. Theme nights. A casino. More food than you could ever eat. More bars than you could ever visit. Sun. Sand. Swimming pools. Sound good? Welcome to ShipRocked.
On January 22, for five days and nights, 3,000 soon-to-be friends converged on Galveston, TX, boarded the Carnival Breeze cruise ship, and competed to see who could live ShipRocked's "Rock Hard, Vacation Harder" credo the loudest. The days were wondrous, the nights were epic, and the Gulf of Mexico may never be the same. Don't worry if you couldn't make it, photographer Kirstin Daw and I saved you a place in the sun, a seat at the bar and a spot in the front row…
The opening night set the tone, with '80s rock revivalists Steel Panther playing Saturday's sail-away party on the deck stage and delivering some Sunset Strip heat to the frigid outdoor show. With the coastal windchill making the mid-40s temp feel below freezing, guitarist Satchel later told me that it was the coldest show they've ever had to play – he only mentioned the impact the cold had on his fingers, but cut the guys that delivered the classics "Gloryhole" and "Asian Hooker" some slack if their spandex looked like it could use some filling out! Anthrax front man Joey Belladonna joined them onstage for Journey's "Don't Stop Believin'," then again during their second show Tuesday night, indoors in the theater, for Judas Priest's "You've Got Another Thing Comin'." Belladonna made several other appearances throughout the cruise, most notably as a member of the Stowaways – an all-star covers ensemble that has evolved into one of the biggest draws on ShipRocked – and accompanied by an impromptu band including Satchel on guitar and Tyson Leslie on keyboards performing a set of covers on the more intimate Ocean Plaza stage, also the site of late-night karaoke until four AM each morning.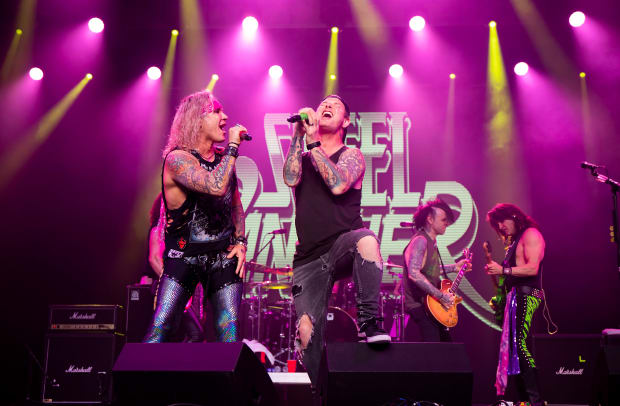 Headlining the theater on opening night, Texas stalwarts Drowning Pool premiered three new songs mid-set while teasing the spring release of their new album before a packed house. The moody and ambient "Doing Time in Hell" was a pre-recorded intro that front man Jasen Moreno sang over, which bled into the full-band scorcher "Hate Against Hate" and "Strike A Nerve." Both received rousing ovations and transported the crowd into the Sinner portion of their set, which, to little surprise, closed with the mega-hit "Bodies." The Drowning Pool guys also appeared as part of the Stowaways, with the band backing Belladonna on Foreigner's "Cold as Ice" and Dio's "Holy Diver." Moreno shifted to bass and joined bandmate and guitarist CJ Pierce, In This Moment drummer Kent Dimmel and Nixons frontman Zac Malloy on Alice In Chains' "Would?," and also hooked up with the band Kaleido and guitarist Dameon Aranda during the "Van Stowaways" Eddie Van Halen tribute set for "Beat It."
Texas was well represented on the ship, with fan favorites Blacktop Mojo performing two sets – one on the deck, and one in the Ocean Plaza – and Sons of Texas frontman Mark Morales joining CJ Pierce, Joey Duenas, Dimmel and Aaron Spiers on Pantera's "5 Minutes Alone" with the Stowaways, and also jumping behind the mic during Lamb of God guitarist Mark Morton's acoustic set in the plaza.
Already rumored to be attending ShipRocked as a passenger in support of his wife's Cherry Bombs burlesque performance troupe, Slipknot and Stone Sour frontman Corey Taylor stepped up as the ship's co-headliner and brought his solo band aboard when I Prevail had to miss the cruise at the eleventh hour. The lack of notice didn't seem to bother the band, as they delivered two of ShipRocked's most memorable sets, even performing Slipknot's "Wait and Bleed" and Stone Sour's "Through Glass" alongside covers including John Cafferty's "On The Dark Side," and Kiss' "Watchin' You" amidst set-closing "CMFT Must Be Stopped." Taylor was also visible around the boat, joining guitarist Christian Martucci to help Steel Panther run through Dio's "Rainbow in the Dark" during their second show, and doing an hour-long Q&A session in the theater on the last day of the cruise.
For sun lovers, the Cozumel beach party was a can't-miss event – the white sandy beaches, cabana-lined pool and warm ocean waves made the perfect accompaniment to P.O.D. performing in front of hundreds of bikinis, bathing suits and beach balls while waiters delivered frozen fruity drinks by the tray full. They catered the set to the beach vibes and were even joined onstage by Bad Brains legend HR for a handful of songs. P.O.D. also played the last night of the cruise on the deck, beefing the set up ahead of ship headliners Lamb of God, and being joined onstage by seemingly half the bands on the ship for set closer "Alive."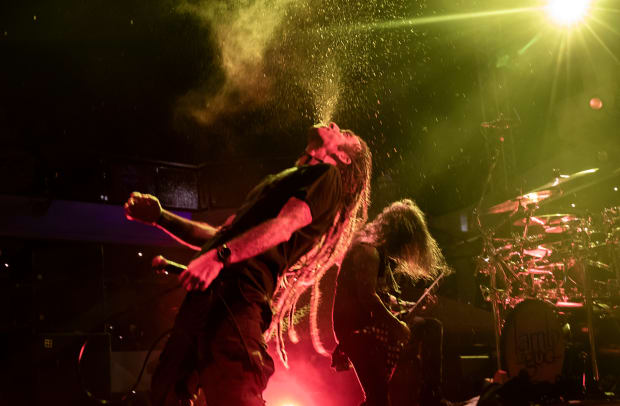 Lamb of God slayed in both their deck performances, with Phil Demmel subbing for Willie Adler and the band not missing a single beat. Frontman Randy Blythe – a veritable powder keg onstage – acknowledged that after seeing Demmel play with Slayer, they knew exactly who to call to fill their guitarist's shoes. The weather wasn't as cooperative, as the threat of rain clouded their first show until, as a friend joked, God had finally had enough and decided to unzip a storm cloud on Virginia's favorite metal sons at the tail end of their set. Middle fingers flying, they just kept playing. Metal in the rain is pretty awesome. Metal in the pouring rain in the middle of the ocean? That's bucket-list worthy.
Staying on the manic front, Avatar were a sight to behold. The Swedish metal maestros blended infectiously heavy music with choreographed head banging and hair whipping, as well as the over-the-top personality of front man Johannes Eckerstrom in their two sets. They also get the unofficial "most creative merch" award, as they sold Avatar bathing suits, beach towels and tropical print button-up shirts. They brought the party, and proudly waived the flag for European metal on the ship. Raising their horns and fighting for the right to party from the American side of the pond were the Butcher Babies, who looked to be having as much fun as any band on the ship, from their deck and theater shows to the late-night karaoke where Heidi Shepherd and Carla Harvey riled up the room with Pantera on more than one occasion. I've always been a champion of the Butcher Babies, but I've never seen them look like they were genuinely having this much fun playing metal, as opposed to just genuinely playing metal. It was infectious, and the most enjoyable Butcher Babies show I've ever witnessed.
Otherwise never disappoint live, and their set on the ship was no exception. They only played one show, but they made the mid-afternoon theater crowd feel like it was 11pm and they were headlining a festival. Front man Adrian Patrick canvases the stage like a pit bull, and his brother Ryan is one of the more underrated guitarists amidst the new wave of modern rock bands. They played new song "Full Disclosure," and it was a burner.
You know who's not underrated as a guitarist? Nita Strauss, and she deserves every accolade piled upon her. Alice Cooper's guitarist by day, she is owning radio at the moment with her "Dead Inside" solo collaboration with David Draiman and Disturbed, and her 30-minute set at the front of the Stowaways Eddie Van Halen tribute show demonstrated exactly why she's one of the hottest guitarists in music.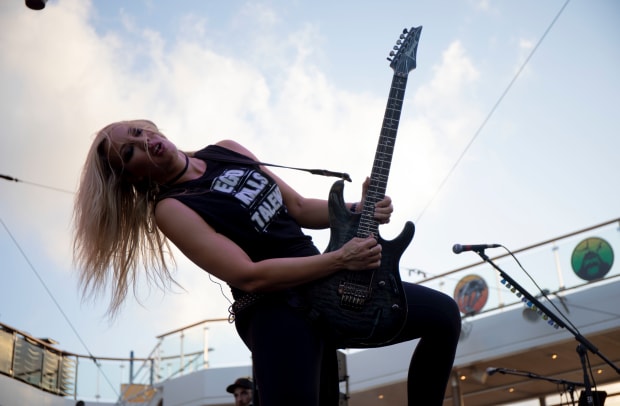 Keeping things hot, Nonpoint brought both their deck and theater crowds to a rapid boil. There were some amazing front men on ShipRocked – Corey Taylor, Randy Blythe, Jasen Moreno, Johannes Eckerstrom, Steel Panther's Satchel and Michael Starr – and Elias Soriano can hold his own with any of them, a Tasmanian devil of dreadlocks and fury. You know that TikTok challenge daring you not to headbang? I'd lose every time if "Bullet With A Name" played. Any cruise where I can see it performed twice is a win, and rumor has it Nonpoint have already been confirmed to return to ShipRocked in 2023.
While I knew exactly what to expect from Nonpoint, '68 picked me up by the earholes and slammed me around the deck like a 225-pound bag of dough (they played early in the week; later in the week I'd have been a 230-pound bag of doughier dough). These guys were my "holy shit" surprise of the cruise, a two-man band that bled the perfect balance of dissonance and fuzz, heavy and melodic, restraint and release, and had a captivating presence that rivaled most bands with twice as many members.
I wasn't surprised at all by Goodbye June – I've been hip to their southern rock splendor since hearing "Daisy" off their Magic Valley debut in 2016, and they were just as mesmerizing as I remembered them, replete with infectious riffs, whiskey-soaked vocals and a warm tone that took the chill out of the deck stage air as the Carnival Breeze made the run back to Galveston on the last day of the cruise. From what I've already heard, I'll be stunned if their new release, See Where The Night Goes (out February 18), isn't firmly entrenched in my year-end best-of lists. Between Goodbye June and Ayron Jones, no-frills rock made a fine showing on ShipRocked. I missed Ayron's deck show on opening night because he was opposite Drowning Pool, but he satiated my thirst in his more intimate lounge show the following night. He actually performed double duty on Sunday, also playing the VIP party earlier in the night.
And there was more! Dead Sara frontwoman Emily Armstrong oozed riot grrrl aesthetic and a post-grunge sensibility, while her band seamlessly stirred melody and stomp for abrasively infectious results in their deck and theater performances. 10 Years melded their sound in a pot of their own, swirling the complexities of modern progressive rock with an awareness for active rock hooks and melodies. They were custom-made for the deck stage, the sound as expansive as the ocean waters that ShipRocked sliced through.
Circling with the currents back to the Stowaways, additional highlights from their two sets were plentiful. HR popped up again to co-front a cover of the Bad Brains' "The Youth are Getting Restless" with Randy Blythe, then stayed on the stage to run through Bob Marley's "Three Little Birds," where he was accompanied by P.O.D. front man Sonny Sandoval, Carly Smithson, Kurt Deimer and Gabe and Dameon Aranda on vocals, as well as a band highlighted by former Guns N Roses guitarist Bumblefoot, Black Label Society bassist John DeServio and Vixen keyboardist Tyson Leslie. Up next, Michael Vampire showed his '80s chops alongside Dameon Aranda on guitar, Marty O'Brien of Lita Ford on bass, Dimmel on drums and Leslie on keys for an impressive take on Bon Jovi's "Living on a Prayer." 
The Stowaways' Van Halen tribute was highlighted by Nita Strauss, Satchel, Bumblefoot, Aranda, DeServio and Monster Magnet drummer Bob Pantella laying down the music for "Crossroads," which was sung by Madame Mayhem, Kurt Deimer and Gabe Aranda, and a four song closing set that started with Sahaj Ticotin of Ra on bass and vocals, ex-Five Finger Death Punch guitarist Jason Hook, drummer RJ Shankle and Leslie on keys for the Sammy Hagar-era hits "Right Now" and "Why Can't This Be Love," and wrapped with a finale that brought out – who else? – "David Lee Ralph" Saenz (aka Michael Starr) to unleash "Unchained" and "Panama."
Rock hard? We did it. Vacation harder? Mission accomplished.
ShipRocked 2023 will set sail January 22-28, 2023 – six nights on the Carnival Magic, with stops in the Dominican Republic, Turks and Caicos and the Bahamas. Who's buying the first round?