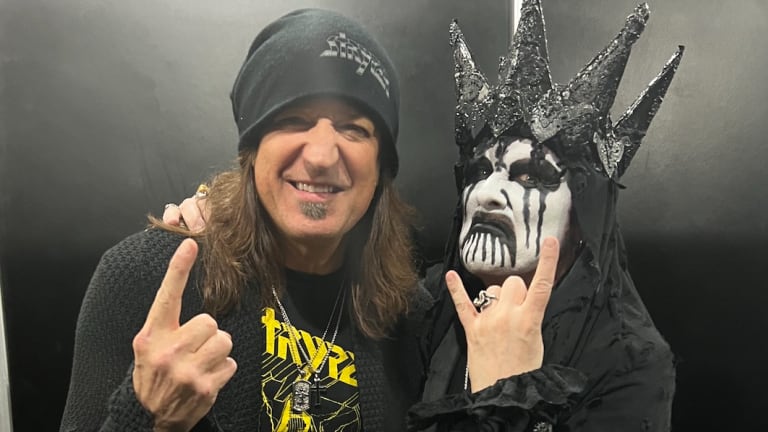 Stryper's Michael Sweet hung out with King Diamond backstage at Hell & Heaven Fest
'When you break it down, we're just people,' Sweet told Metal Edge
The big news out of the Hell & Heaven Metal Fest this past weekend was the return of Pantera. But that wasn't the only momentous moment. On Sunday night, December 4, the Hell Stage hosted not only the final performance in Mexico from Kiss, but also a set from Christian rockers Stryper… followed immediately by one from none other than occult metal legends Mercyful Fate.
What's more, Stryper front man Michael Sweet took a minute to meet with King Diamond backstage for a chat and photo op, for which Metal Edge's Paul Gargano was in attendance. You can check out a photo of the frontman summit below.
As for what Sweet and King discussed?
"The weather, the birds, the bees," Sweet told Gargano. "It was just a normal conversation. It's like, wow, he has this persona. We have this persona. You're Satanic. We're Christian. But then when you break it down, we're just people."
Sweet also laughed about the fact that, given the lineup schedule, Stryper was performing onstage with Mercyful Fate's set pieces, which included Satanic references, in the background. Fortunately, Gargano pointed out, they were obscured by a black tarp while Stryper played.
For Sweet, the entire experience was undeniably positive. "It always amazes me when we can get on a festival like this, because it legitimizes what we've always set out to do," he said. "But at the same time, it humbles me because I don't think we're at the level of a lot of these other bands, but whether you agree with that or disagree with that, we're singing about something different and our message is the polar opposite. So it's always kind of awkward, like, how's this gonna go? Are, are they gonna boo us? Are they gonna throw food at us or are they gonna cheer us? And then we go out onstage and you see people singing along to the songs. And it just blows my mind."
As for the unique experience of sharing a stage with Mercyful Fate, well, maybe it won't be the last time. During their conversation, King suggested to Sweet that the two bands should consider doing more shows together.
Hell & Heaven, indeed.
You can check out Sweet and Stryper performing the To Hell With the Devil classic, "More Than a Man," in Mexico below.