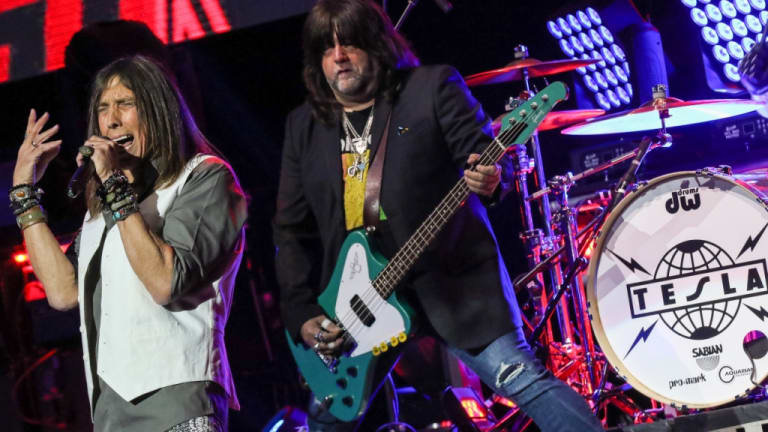 Tesla, Skid Row & Stryper make Day 3 of the M3 Rock Festival an instant classic
Burning Witches & Leatherwolf prove their metal on fest's final day
As strong as the first two days of the M3 Rock Festival were, I expected Day 3 to reign supreme - and with no rain in the forecast, blue skies and seasonable temperatures, we were already ahead of the game when the Merriweather Post Pavilion gates opened at 11am for VIP ticket holders.
The final day kicked into gear hard and fast with the back-to-back metal barrage of Swiss opener Burning Witches and the return of '80s heavies Leatherwolf. Burning Witches are currently making their North American debut on the road with The Iron Maidens, and the early M3 faithfuls fell in love with the five femme fatales and their epic approach to power chords and fist-pumping. Doro paved the way, and she'd be proud - this is a band we've been waiting a long time for, and good things await my new favorite female metal titans.
I've also been waiting a long time to see Leatherwolf - 35 years, to be exact. Their self-titled full-length debut dropped in 1987 and was a fixture in my cassette collection, but I lost track of the band in the decades since. The only returning original member is drummer Dean Roberts, and one of my highlights of the M3 weekend was getting to know him and learn more about the journey his Wolf has taken. With a new record in the can, the triple axe attack will be making a lot of noise in the coming year, and his new outfit proved during Sunday's set that they're fully ready to take their metal legacy to new heights.
The Quireboys and XYZ took the afternoon in a different direction, the salty English rockers formerly known as the London Quireboys saturating the early afternoon with a bluesy Brit swagger and XYZ turning us "Inside Out" with their own Sunset Strip-via-France inspired spin on late-'80s rock. Zebra followed with a more prog-minded approach to classic rock, paving the path for Yngwie Malmsteen's 45-minute assault on his guitar strings. His audacious proficiency admittedly made my sleep-deprived head spin, but I was clearly in the minority - Sweden's favorite guitarist left the stage to an ovation, an early fan favorite. It's a shame he was a no-show for the fest's VIP meet and greet and autograph signing, as the line was long and he was the only artist of the day not to appear.
I transformed into a Stryper super-fan over Covid - my wife and I even dressed as Michael and Robert Sweet for Chris Jericho's latest birthday bash - and my anticipation of the yellow and black attack's late-afternoon set was rivaled only by Blue Oyster Cult and witnessing Skid Row's acclaimed new frontman Erik Grönwall. Just like BOC the night before, Stryper converted a lot of people with their spirited 12-song denial of the dark side. While the set was near-perfect, I only wish 2020's Even The Devil Believes was represented - the album is far too good to become a Covid-induced afterthought. In a post-show interview, Michael assured me that their new album this fall will be just as strong - count me in!
I missed the beginning of Skid Row's set interviewing Burning Witches and Leatherwolf, but when I walked into the frenzied amphitheater, my jaw dropped. There's a punk rock spirit in the band that hasn't been there for decades, and Grönwall owns the stage with a respect for the past and an Iggy meets Freddie and Mick presence that feels fresh and inviting. New single "The Gang's All Here" was a powder keg live - with reverence and admiration for where Skid Row started and the journey they've taken, it was thrilling to watch their M3 set and imagine where they're heading.
There aren't many bands that can follow the youth gone wild, but Tesla met the challenge. I consider them the masters of blue collar, working class hard rock, and they lived up to the billing headlining the final night of M3. I'm running on empty as I type this - embracing the totality of any rock festival isn't for the faint of heart, and staying up until the morning hours to file my story and assemble photos after mingling in the hotel bar each night makes the days even longer. But it's that rock and roll spirit that keeps us young, and as exhausted as I may be, I wouldn't have it any other way. 
This was only my second M3 Rock Festival, but I'm already planning on being back in Baltimore to make it three in a row in 2023. See you there! 
M3 Rock Festival 2022 - Day 1 coverage
M3 Rock Festival 2022 - Day 2 coverage 
M3 Rock Festival 2022 - Day 3