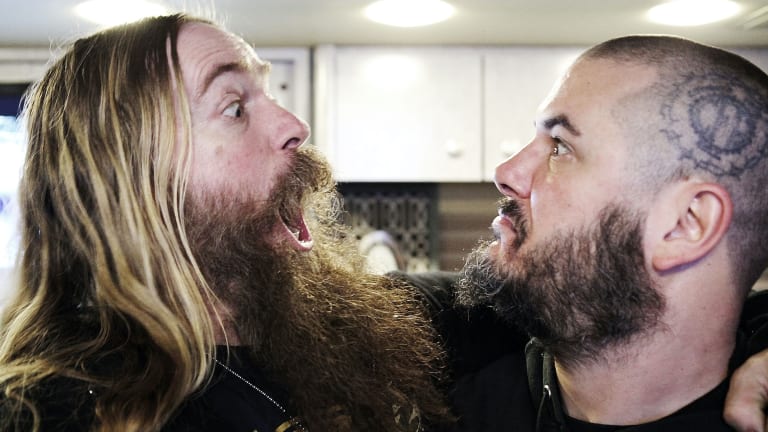 Confirmed: Zakk Wylde and Anthrax's Charlie Benante to take part in 2023 Pantera tour
The foursome will play festivals and headlining dates across North America and Europe
After being rumored earlier today, the news has now been confirmed that Zakk Wylde and Anthrax drummer Charlie Benante will join Phillip Anselmo and Rex Brown on a Pantera-related tour in 2023.
According to Billboard, the group will play major festivals across North America and Europe, as well as play their own headlining shows next summer.
Additionally, the article states the lineup "has been given a green light by the estates of the band's founders, Vincent 'Vinnie Paul' Abbott and 'Dimebag' Darrell Abbott, as well as Brown, who last year said Wylde wouldn't tour with a reunited Pantera if that were to happen. It's unclear what changed his mind."
As previously reported, Wylde was close friends with Darrell for decades, once saying of the Pantera guitarist, "If he didn't play guitar, he'd still be one of your best friends, just because he was a sweet guy." As for his importance as a musician, Wylde continued, "He was as groundbreaking with his riffs as Tony Iommi was with his — he was the architect of the template for that style of music."
Similarly, Benante, who in 2019 joined Philip H. Anselmo & The Illegals onstage in Las Vegas to perform Pantera's "Strength Beyond Strength" and "Goddamn Electric," has publicly expressed his love for Pantera through the years, once stating that he believed they should be held in the same esteem as Anthrax and their Big Four thrash brethren.
"I think that if Metallica, Anthrax, Slayer and Megadeth had a baby, it would have been Pantera," he said. "Pantera was like Van Halen, reborn. The brothers [Dimebag and Vinnie Paul], growing up together and playing together, like the Van Halen brothers, that's a god-given gift."
Benante also praised Paul's "distinct sound," and recalled the times that Anthrax and Pantera shared bills, saying, "We always had great times together. We were living in a time before the Internet, [when] it was all about fun and about the experience. They were great days. Every day on tour, it was just a circus, but it was a fun circus. Vinnie was all about having fun! Him and his brother, they had a warped sense of humor, but they always wanted your experience to be great."