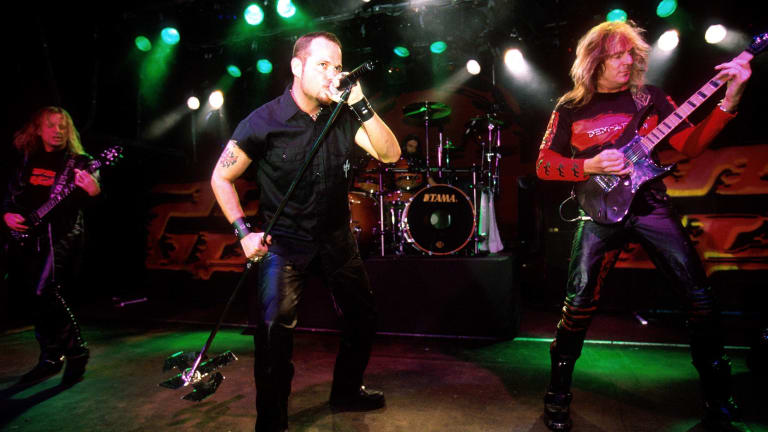 Tim 'Ripper' Owens talks Judas Priest's Rock & Roll Hall of Fame induction: 'I haven't even gotten a call'
Former singer also calls his time in the band 'fantastic'
Judas Priest will finally be inducted into the Rock & Roll Hall of Fame this year as the recipient of the award for musical excellence. But one former member who will not be joining them onstage is singer Tim "Ripper" Owens, who joined the band following Rob Halford's exit, and stayed with them for two albums, 1997's Jugulator and 2001's Demolition, and multiple tours before departing when Halford returned in 2003.
In a new interview with Rolling Stone, Ripper weighed in on his exclusion, placing the onus as much on his former band mates as he does the Hall of Fame. "It's a shame that they can't bring in members that were in the band almost 10 years and had a Grammy nomination, two studio records, two live records, a DVD. It's a shame that they can't do it," he said, adding, "What gets me more than anything is that I haven't even gotten a call from Judas Priest on it. 
He continued, "There's never been a call saying, 'You were a big part of this. Here's the reasons you're not being inducted, but you were a big part of us and you're a big part of the family.' There wasn't even a phone call. Not getting in, whatever.
"Here's how I look at it: I'm in the Hall of Fame. I was in the band for almost 10 years. When someone says that Judas Priest is in the Hall of Fame, I sang for Judas Priest, so I'm basically in the Hall of Fame."
When it was pointed out that bands like Metallica and the Red Hot Chili Peppers were inducted with members who had only recently joined the bands, Ripper responded, "Yeah. If there's a reason, I get it. It just would have been nice to get an email or a call. The only emails I ever get are threats. It's a shame because we're friends. It's a shame that's all management is worried about, instead of, 'We should probably send a letter to Tim or a bottle of champagne to thank him for his years in the band.' "
Regardless, Ripper also went out of his way to praise the band members and his time with them, saying, "I'm not talking bad about anyone in the band. This is what happens. I can't help that. But the time in Judas Priest was fantastic. They treated me so good.
"People ask me what I miss about Judas Priest or if I miss playing all over the place with them. I don't. I play more places now on my own. I go to Israel, Africa, gosh, you name it. I'm just getting ready to go to Brazil, Bolivia, Chile, Colombia, Mexico. I miss the friendship. I miss hanging out. I miss that time."
Ripper is currently playing with former Judas Priest K.K. Downing (who will be included in Judas Priest's Hall of Fame induction) in the band KK's Priest. You can read our recent interview with Downing here.