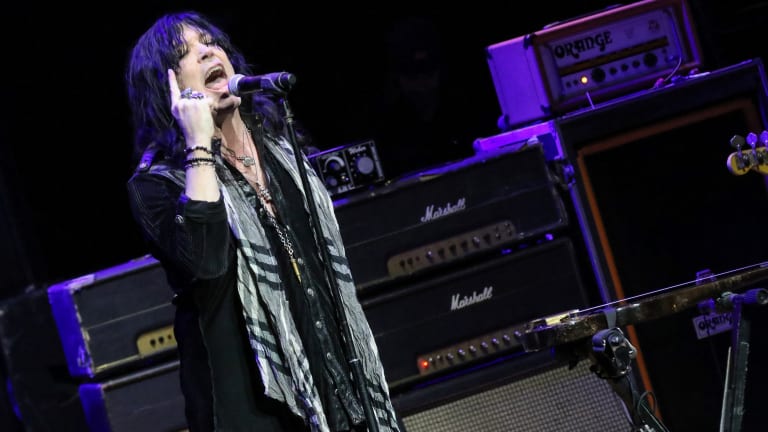 Tom Keifer, Blue Oyster Cult & Stephen Pearcy heat up Day 2 of the M3 Rock Festival
Paul Gargano in a singlet? Heaven's Edge want to see it...
"I'm sorry, we're about to make it a lot colder in here,' said Tom Keifer at the tail end of his band's headlining set on Day 2 of the M3 Rock Fest, moments before launching into the epic title track of Cinderella's sophomore album Long Cold Winter.
If you weren't there, let it be known that it was cold at the Merriweather Post Pavilion. How cold? Like Friday night, our Baltimore suburb was still coated in a perpetual mist, but Saturday the temperatures dropped to the low 40s and a wind blew the light drizzle into the covered amphitheater. It was so cold, that while I was texting with Friday night standout Lizzy Borden about our mutual love for Blue Oyster Cult during BOC's post-Stephen Pearcy/pre-Tom Keifer Band set, my fingers were so cold and numb I almost envied the fact that Lizzy was boarding a plane back to his Vegas hometown. Almost, but not quite.
The music at M3 Saturday slayed, and it made every bit of my whining about the damp windchill worthwhile. Keifer crushed - his southern rock spin on classic hair metal favorites offering the perfect closing act after a set from '70s FM mammoths Blue Oyster Cult. "Godzilla" was one of the songs that got me into metal, and the band have become one of my favorites in recent years. Their pristine performance ran the gamut from their 50-year-old, self-titled debut, to their criminally unrecognized stellar latest album, 2020's Covid release The Symbol Remains. If yesterday's revelation was that we should all rediscover Lizzy Borden, today's takeaway was the brilliance of Blue Oyster Cult. I etched their classic logo on just about every notebook I had in middle school, and that was before I truly discovered the timeless genius of the band. Big props to M3 for giving them a marquee placement between Ratt frontman Stephen Pearcy (a BOC fan himself) and Keifer.
Pearcy took the day's proceedings out of the damp cellar, delivering an hour of Ratt classics with a band that, no joke, was assembled less than 12 hours earlier when his drummer and guitarist tested positive for Covid. Former Enuff Z'Nuff mainstay and L.A. Guns alum Johnny Monaco stepped in to join Pearcy's longtime solo guitarist Erik Ferentinos and bassist Jerry Montana in front of the stacked amps, Pearcy looking and sounding like it was thirty years ago as he laid down his unparalleled hit parade.
Speaking of EZ'N, Chip Z'Nuff and his band of merrymakers were a last-minute addition after topliner Extreme, also afflicted by a Covid outbreak, were forced to cancel at the eleventh hour. Enuff Z'Nuff opened the 11-hour day of music at noon and were followed by power-packed sets from Lillian Axe, Vain, Heaven's Edge and former TNT frontman Tony Harnell, whose vocal chops sent shivers of their own down our spines - even if I consider it a personal affront that he didn't play his magically infectious Echobats single "Save Me From Loving You."
If shivers are your thing, imagine me in a singlet. (My apologies if you just spit your beverage all over your computer.) If you listened to the Metal Edge Another F'n Podcast episode featuring M3 founder Eric Baker, we made a friendly wager about whether or not Heaven's Edge drummer Dave Rath could make it through his set without taking his shirt off - the loser would have to introduce a band in a singlet at next year's M3. Well, I became the victim of flagrant collusion when Rath, between songs, informed the crowd that he was about to do something to insure that I would lose a bet… and he took his shirt off, then put it back on a few seconds later as he promised the crowd that they'd see me in a thong if they returned next year. I'm calling BS - but a bet's a bet, so rain and cold may pale in the wake of next year's looming horror.
On a more promising note? Tomorrow's high may only be in the low 50s, but there's no rain in the forecast for Day 3 of my new favorite festival. I don't know what your Sunday holds in store, but ours will include Leatherwolf, Quireboys, Stryper, Skid Row and Tesla, to name just a few. Don't worry, I'll be here to let you know what you missed! 
M3 Rock Festival 2022 - Day 1 coverage
M3 Rock Festival 2022 - Day 3 coverage
M3 Rock Festival - Day 2