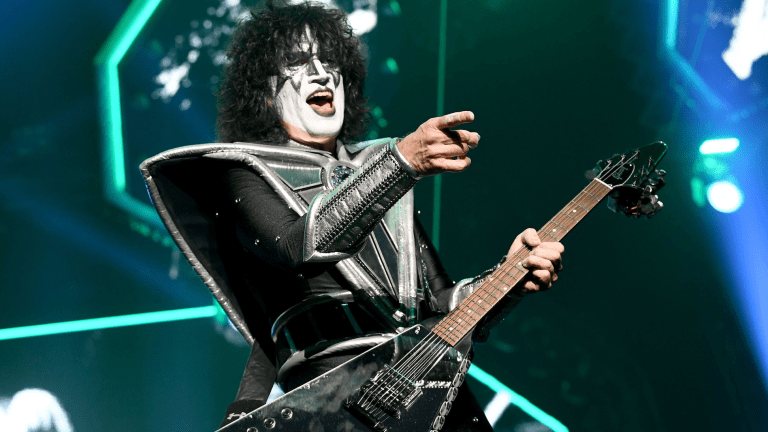 Tommy Thayer played on a Kiss album 13 years before he joined the band
Then-guitarist Bruce Kulick 'came in and I think he did the solos and stuff, but I still heard my guitar in there,' Thayer says
Tommy Thayer didn't officially join Kiss as a guitarist until 2002, but as he discusses in a new interview, his first appearance with the band on one of their records actually came 13 years earlier – on 1989's Hot in the Shade.
"I co-wrote two songs, 'The Street Giveth and the Street Taketh Away' and 'Betrayed,' " Thayer told the website Roppongi Rocks about that album. "But it was funny after the record came out, Hot in the Shade, and I heard those tracks. I can still hear my guitar in there from the demo because that album was really all taking demos."
He continued, "You know, they were great quality demos and really just spiffing them up a little bit and putting them out. Which is fine because back then when you recorded demos, they were like the actual tracks almost anyway. Except some of them had drum machine and then Eric Carr came in and actually played the drums after the fact on some of those tunes. I know that the two tunes I co-wrote with Gene, Gene and I demoed those and they sound almost exactly like they ended up on the album. But with Eric Carr playing the drums and then Bruce [Kulick] came in and did the guitar and I think he did the solos and stuff, but I still heard my guitar in there."
Later on in the interview, Thayer also reiterated that it was he, and not Ace Frehley, who played most of the guitars on the band's 1998 "reunion" album, Psycho Circus, which then opened the door to him joining Kiss full-time.
"Even when they did the reunion, I was working with Ace and Peter [Criss]," Thayer said. "I was rehearsing with those guys. Ace didn't show up or something… Gosh! Even recording Psycho Circus, which was hush-hush, to begin with, I did almost all the guitars on that album as you know."
He continued, "So, there were all kinds of things I was doing guitar-wise as part of everything else I was doing at the time. As those tours continued, like the 'Farewell' tour of 2000, I actually had an outfit ready in the cases – I'm sure you've heard this too, but for the record – and boots and all this sort of things, as an insurance policy really because there was a lot of uncertainty with Ace. I was there and they knew that I could do it because they knew my guitar chops and skills over the years. That's how it came to be and people say: 'Oh, did you have to audition?' and that sort of thing. No, it was just a natural transition over the course of several years really that led to it."