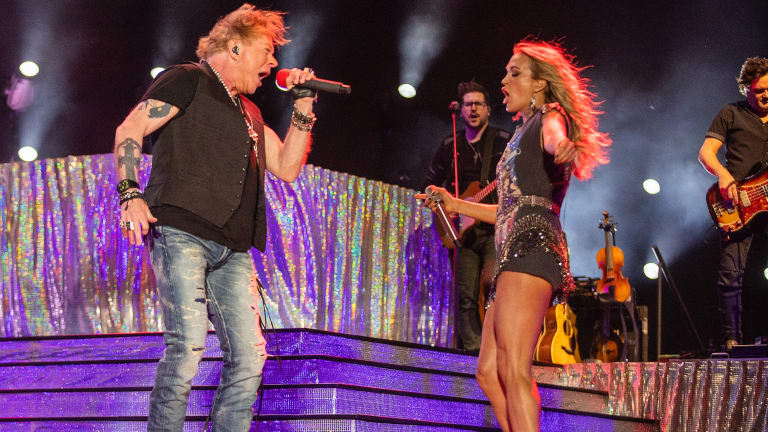 Watch Axl Rose and Carrie Underwood duet on "Sweet Child O' Mine' and 'Paradise City'
The Guns N' Roses singer joined the country-pop superstar onstage during her set at the Stagecoach Festival this past weekend
Country-pop superstar singer Carrie Underwood has long been, um, vocal, about her love for Guns N' Roses, covering "Sweet Child O' Mine," "Paradise City," "Patience" and "November Rain" in concert, and once joking to late-night talk show host Jimmy Fallon that she had "abandoned" her husband and children just after a tour in order to hightail it to Vegas to see Gn'R perform.
But this past Saturday Underwood took her fandom to new heights, welcoming Axl Rose onstage during her April 30 set at the Stagecoach country music festival in Indio, California, to guest on covers of "Sweet Child O' Mine" and "Paradise City."
"Welcome to the greatest night of my life – give it up for Axl Rose!," Underwood announced after performing the first verse and chorus of "Sweet Child" on her own. The pair then finished out the song together, leading right into a second Appetite for Destruction tune. "You thought we were finished?," Underwood taunted, as her band kicked into "Paradise City."
You can check out fan-filmed footage of the Carrie n' Axl show above and below.