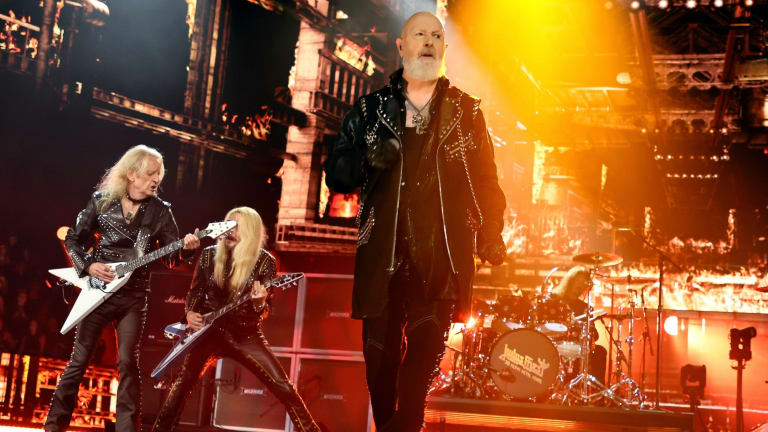 Watch Judas Priest perform with K. K. Downing, Glenn Tipton and Les Binks at the Rock & Roll Hall of Fame induction ceremony
The metal legends ripped through 'You've Got Another Thing Comin',' 'Breaking the Law' and 'Living After Midnight' with an expanded lineup
After way, way too long of a wait, Judas Priest were finally inducted into the Rock & Roll Hall of Fame tonight, receiving the honor at the 2022 induction ceremony held at the Microsoft Theater in Los Angeles on November 5. 
After receiving the award for Musical Excellence, the band performed a three-song set, opening with "You've Got Another Thing Comin'," from 1982's Screaming for Vengeance, before tearing into two cuts from 1980's British Steel, "Breaking the Law" and "Living After Midnight."
For the performance, Priest's current official lineup — front man Rob Halford, bassist Ian Hill, guitarist Richie Faulkner and drummer Scott Travis— was joined by guitarist Glenn Tipton, who remains an official member of the band even as he has retired from touring due to his battle with Parkinson's Disease. Also onstage were former guitarist K. K. Downing and drummer Les Binks. 
"The joy of our music is that it lives forever," Halford said during Priest's induction. "And that's why we're here. We live for heavy metal."
You can check out footage of the expanded band's performance above and below.
Recently, Downing commented on his anticipated return to the stage with Priest, with whom he parted acrimoniously in 2011. "It'll go by in a flash, won't it?" he said. "I think we've probably got eight or nine minutes. I'm not even going to be able to break a sweat. 
"The main thing is to represent the attitude and hopefully the legend of what Judas Priest is and has become and what it means to everybody who's been on that very long journey through the decades with the band. And hopefully, it will just kind of remind people and bring back some cherished memories of the heavy metal parking lots all around the world."