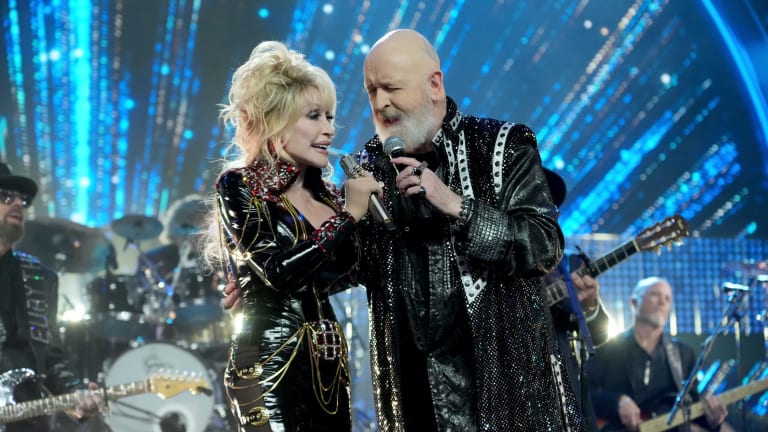 Watch Rob Halford perform 'Jolene' with Dolly Parton at the Rock & Roll Hall of Fame induction ceremony
The Judas Priest front man tore into the country classic with an all-star cast
Last night, Judas Priest rocked the Hall of Fame induction ceremony with a seven-man, three-song set of "You've Got Another Thing Comin'," "Breaking the Law" and "Living After Midnight."
For the landmark performance, Priest's current official lineup — front man Rob Halford, bassist Ian Hill, guitarist Richie Faulkner and drummer Scott Travis— was joined by guitarist Glenn Tipton, who remains an official member of the band even as he has retired from touring due to his battle with Parkinson's Disease. Also onstage were former guitarist K. K. Downing and drummer Les Binks.
But Priest weren't done. Later on in the evening, Halford joined country legend Dolly Parton as part of an all-star finale performance of her classic song "Jolene." 
The "super jam" performance also featured P!nk (who inducted Dolly into the Hall of Fame), Brandi Carlile, Simon Lebon of Duran Duran, Sheryl Crow, Eurythmics singer Annie Lennox, Pat Benatar and Neil Giraldo.
You can check out footage of the performance above, courtesy of Jrodconcerts Media.