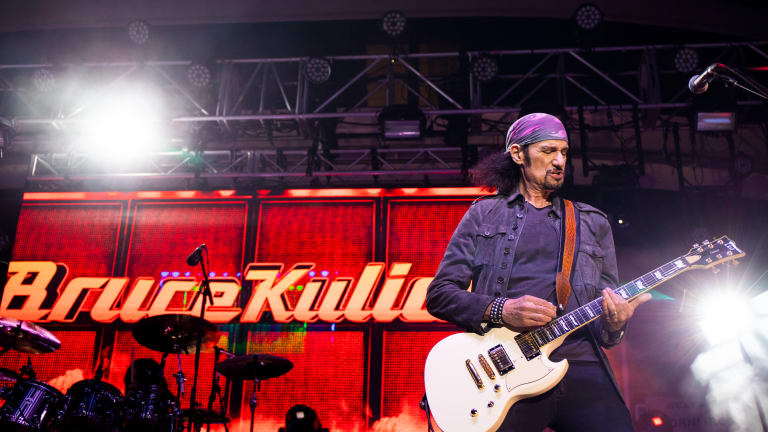 Kiss Kruise Day 2: Getting 'unholy' with Bruce Kulick, Zakk Wylde and more
Crazy, crazy nights (and days) aboard the Norwegian Jewel
Day 2 of the Kiss Kruise started with Richie Kotzen on the pool deck at noon. If you're looking for the ultimate sign of respect for a musician, it's the fellow musicians watching them perform - and Richie had 3/4 of Kiss watching his set from sides stage (rumor has it Gene was still in his cabin calculating the projected revenue from my bar tab). Richie smoked, delivering an hour-long blues set that really cast him in a new light for me. I obviously know his rock pedigree, and I love his work with Iron Maiden guitarist Adrian Smith, but he delivered blues that were just as hot as the midday sun. I knew he was a great player, but seeing takes the believing to a whole new level. Perfect way to start the day!
I missed a Q&A with Doc McGhee that I really wanted to go to because it was at the same time as Richie, but hopefully I'll have another chance to pick the legendary Kiss manager's brain about his work with America's greatest rock band (go ahead, try and argue the point with me) and, just as importantly, the Moscow Music Peace Festival, which helped shape a lot of my feelings about rock music as a developing fan. These are the types of hard decisions you sometimes need to make on music cruises, but Richie's performance was worth every minute. (Unrelated aside, there was a Bavarian theme at lunch in the buffet - they had sliced bratwurst as a salad bar topping, and bratwurst and Swiss cheese pizza. I love pizza more than the next guy, but I couldn't do it…)

The Wild Things delighted the midday pool deck with a set of bouncing pop rock led by British actress Sydney Rae White. The bottle rocket of a front woman had the throwback bang of Pat Benatar, with the modern rock twist of Alanis at her cleanest and Cranberries front woman Dolores O'Riordan at her rawest. I was never a Cranberries fan, but the Wild Things appealed to both my rock aesthetic and pop sensibility, blending the two masterfully.

Caught a few songs from the L.A. Maybe on our way to see Micky James, and the little I saw had the most inspired '80s rock vibe of any of the up-and-coming acts on the ship so far. I knew nothing about Micky James walking into the Bliss Lounge at about 5pm, but from the moment I saw his pleather pants, glitter and blue eye makeup careening around the stage like a cross between David Bowie and Strokes frontman Julian Casablancas, I was hooked. His originals punch, kick and flail, and his covers of the Cure's "Just Like Heaven" and Lenny Kravitz' "Are You Gonna Go My Way" may seem counterintuitive, but they ran the gamut of his sonic spectrum adeptly. With charisma to spare, he punched all my right buttons.

The plan was to get a quick drink in the casino, but that turned into an impromptu business meeting, and an hour later we had to pass through Vixen's show in the casino-adjacent Magnum's lounge to get back to our rooms to change for dinner. I had planned on skipping that Vixen set, but they played "Cryin' " as we walked through the packed room and I got sucked in. We ended up carving a spot in the packed crowd and watching the whole show. Suffice it to say, they won me over. Guitarist Britt Lightning ripped a cover of Ted Nugent's "Stranglehold" that made me her biggest new fan. How fun was the set? Maybe the reposado gets an assist, but I missed the first 15 minutes of the Bruce Kulick set because I lost track of time.

Bruce Kulick on the deck stage! Where to start… I guess with the band, because they slayed. Todd Kerns on guitar/vocals, Zach Throne on bass/vocals and Brent Fitz on drums. And, of course, their collective link to Kiss sans makeup was guitarist Bruce Kulick. They delivered a 75-minute set of KISS favorites from the Kulick years - heavily celebrating the 35th anniversary of Crazy Nights and the 30th anniversary of Revenge. 
My personal highlight? Zach crushing "Unholy" with a spot-on Gene impression - but "Bang Bang You" and "Turn On the Night" also had me screaming lyrics like I was a teenager again! (Okay, fine, maybe I wasn't a teenager for "Unholy," but I'm taking some creative liberties here!) My only complaint - and it comes with my tongue planted firmly in cheek as an opinionated Kiss fan - is that they closed with Kiss' cover of Argent's "God Gave Rock 'N' Roll to You." I was never a fan of that song. That said, I know a lot of people are, and I was still singing along like I meant it. Hearing Bruce and his band pay homage to Kulick's years in Kiss was a real treat, and a show not to be missed if you're a fan of non-makeup Kiss.

After that? Last-minute dinner plans with Sebastian Bach and his wife turned into a wildly enjoyable night of steaks, stories and wine. By the time the dishes were cleared, we missed Zakk Wylde and Black Label Society on the pool deck, but they'll be playing outdoors again Tuesday night immediately following Kiss' theater show, so my plans that night are already coming into focus.

See how things roll when you're rocking at sea? Also missed dueling pianos with Vixen keyboardist Tyson Leslie, and judging from my What'sApp feed and the songs I'm told I missed, I'll be waiting for a return engagement there, as well! After a nightcap in the casino with Tracii Guns, it was bedtime for this Kiss Navy cadet - we may be at sea, but some of us still have to work in the morning, and tomorrow we spend the day in Cabo San Lucas. 
Good night, my fellow Kiss fanatics!