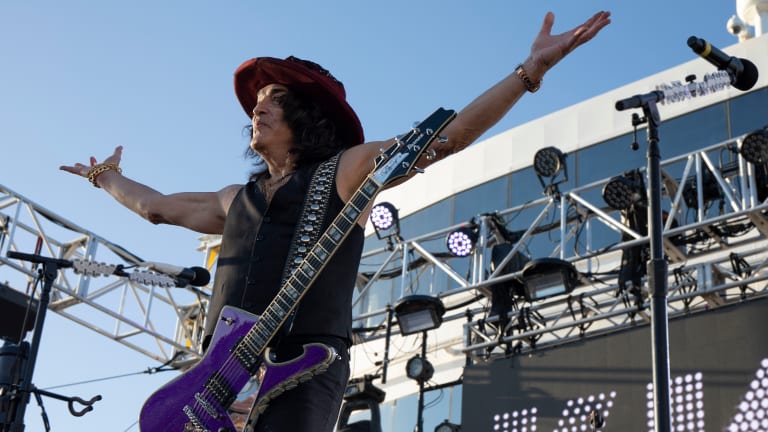 Shuffleboard, 'Strutter,' Stryper and Paul Stanley: Metal Edge sails away on the 2022 Kiss Kruise
Join us for a Day One recap, featuring raucous sets from Kiss, Buckcherry, Stryper and more
I've been to a lot of Kiss shows in my life, more than I can even count, but until Saturday night I've never heard Paul Stanley talk about shuffleboard onstage. Let alone mention it twice!
That's what makes the Kiss Kruise so special.

"Are you guys tired?" Paul asked a packed pool deck a few songs into the Kiss sail away performance that officially launched the eleventh - and reportedly last - annual sailing of the Kiss Kruise on October 29. "I don't want to keep you from shuffleboard!" The band then broke into "Do You Love Me" and the scattered applause turned to an uproar from the throngs of Kiss diehards.
The hour-long unmasked set was the perfect way to welcome the Kiss Navy onboard. That's right, the Kiss Navy! For those of us who've grown up lifelong members of the Kiss Army, having the opportunity to see Kiss in the intimate confines of the Norwegian Jewel cruise ship is nothing short of spectacular. The five-night cruise left from Los Angeles - as I type this we are in the midst of a day at sea bound for Cabo San Lucas and Ensenada, Mexico before returning to L.A. Thursday morning. In between, it's a Kiss fan's wet dream, featuring dozens of bands and interactive Kiss activities that you'll never experience on land. And because we think you're all worth a deuce, Metal Edge will bring you land lovers as much as we can over the next several days!
Day one kicked off with Paul, Gene Simmons, Tommy Thayer and Eric Singer taking the stage sans their classic makeup and performing an hour-long unmasked set of KISS classics. We got the aforementioned shuffleboard references, a killer run through "Shock Me" by Tommy Thayer, some well-played age jokes leading into "Christine Sixteen," and even an unplanned "Strutter" encore. 
The 13 songs had us singing along and screaming for more, from "Hotter Than Hell," "Firehouse" and "Do You Love Me" to the band's first single "Nothin' to Lose" - that "went nowhere" according to Paul - and deeper cuts "Goin' Blind" and "Two Timer." See the full setlist in the photo gallery.
Buckcherry "Lit Up" the same outdoor stage with an early evening set highlighted by a 12-minute sojourn through their raucous hit "Crazy Bitch" (dialing it back a bit with forays into funk and "Proud Mary"), and Stryper closed the deck stage with a 16-song set jam-packed with fan favorites. Surprisingly, the yellow and black attack played nothing from brand-new release The Final Battle and only "Divider" from 2020's Even The Devil Believes. I highly recommend both, as my vinyl copy of The Final Battle arrived just in time to give it a few spins before embarking on our nautical voyage to make Kisstory at sea.
Night one for my cadre of Kiss cadets ended with all female cover band Black Sabbitch (figure it out, haha), Kiss karaoke that ran the gamut from pretty damn impressive to mind-blowingly bad (but comedically genius - I'm looking at you, Mr. "I Just Wanna") and a last round of drinks in the casino before calling it a relatively early night by "Crazy Nights" standards.
But this is a marathon, not a sprint - see you all on Day 2, and check out the opening day gallery below.