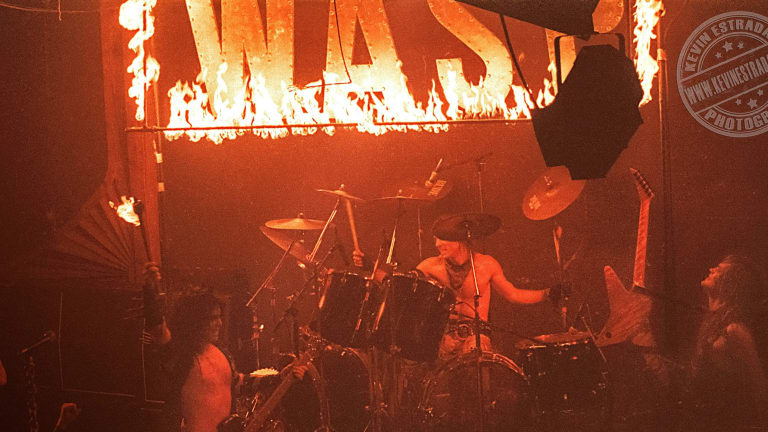 The 'Wild West' 1980s music scene, through the lens of photographer Kevin Estrada
From Hollywood clubs to the US Festival, Estrada captured the greatest bands of the era – Van Halen, Mötley Crüe, Iron Maiden and more – in thrilling, edge-of-your-seat detail
Kevin Estrada grew up in what he calls "Van Halen Country," the San Gabriel Valley, primarily the Arcadia / Pasadena area. It goes a step further – Estrada attended the same junior high school and high school as VH bassist Michael Anthony, and heard the tales firsthand of the legendary backyard parties and hole-in-the-wall club and casino shows where a young Van Halen paid their dues. All of this had an impact on Estrada, who became a hard-rock fan at an early age. So it isn't surprising that Van Halen was not only his favorite band, but also a huge creative inspiration to him in many different ways. But while all of Kevin's friends wanted to play guitar like Edward Van Halen, Kevin wanted to be the guy taking photos of Edward Van Halen.
And so it began. Estrada started smuggling his brother's Pentax K-1000 into shows, and later, his trusty Canon AE-1 (along with an 80-300mm zoom lens in a friend's hair or in another friend's bosom – true story). At that time, it wasn't about trying to be a photographer, it was more about capturing and holding on to a moment. Once the concert was over, it was over. But a photo lives on forever.
Estrada began thinking more seriously about someday making photography a career choice. At this point, he was making some money from selling his rock photos out of his locker at school, and to fellow rock fans waiting in line before a concert. As a way to work on his craft more regularly, Kevin began shooting some of the local bands in his area. Growing up in the early '80s was a magical time for hard rock and metal music – local venues like Perkins Palace and the Ice House in Pasadena, the Country Club in Reseda, Timbers in Glendora and the Troubadour and the Whisky-a-Go-Go in Hollywood had more amazing talent than they knew what to do with.Mötley Crüe, Ratt, W.A.S.P, Quiet Riot, Black 'N Blue and Armored Saint were just a few of the bands that were playing at these clubs on any given night. Many of these "local band" photos that Kevin Estrada snapped as practice or for one of his school photo assignments later went on to grace the pages of glossy rock magazines around the world.
With a little bit of luck (and a lot of persistence), Kevin was discovered by CREEM magazine and was offered the chance to begin his career as a real music photographer. The days of smuggling lenses in his friend's hair or taping his camera to his back were replaced with official assignments and approved photo credentials. In fact, Kevin Estrada's first official assignment was the Ramones at the Hollywood Palladium – shooting from what is known as "the photo pit," located directly in front of the stage. Being that this was all new and exciting to Estrada, he shot his only two rolls of film in just a matter of minutes and had no film left for the rest of the show. Luckily, the band seemed to like Kevin and invited him to photograph them again the following night in Long Beach. Kevin made sure to pace himself a bit more that night.
In the following photo gallery, we present some of Estrada's greatest photos of the era, with detailed commentary on the photographer about how it all went down. And for more of Estrada's photos, head to his official website and follow him on Facebook and Instagram.
Mötley Crüe, October 2, 1981, The Country Club, Reseda, CA
"When I decided I wanted to start shooting rock bands, I realized that a good way to get practice was to shoot some of the local bands playing shows in my area. Lucky for me, the local bands in my area were Mötley Crüe, Ratt, W.A.S.P. and their peers. It was an amazing time for local music, and these bands were putting on shows that were just as good as the major-label bands in the arenas. I was just a kid with a camera, but I knew that night that Mötley Crüe was going to be a big band someday. They won me over for life, and I am thankful to have built a friendship and relationship with them over their career – I continue to shoot them to this day. I had never seen anything like them – part metal, part punk. Those club shows were cutting-edge, and they paved the way for so many bands that followed."
Ronnie James Dio with Black Sabbath, April 13, 1982, Orange Pavilion, San Bernardino, CA
"Although it was quite a drive, the Orange Pavilion in San Bernardino was one of my main venues to attend for a few reasons: 1) They would have the same acts that would be playing the Forum or the Long Beach Arena but it was a much smaller and intimate venue; 2) All seats were General Admission Seating; and 3) They were pretty lax on frisking kids down, so it was easy to smuggle my camera in to shows. During the opening acts I would begin working my way as close to the stage as possible, and I could usually get some amazing photos that looked like I was shooting officially. It was photos like these that helped me get my foot in the door and officially shoot for so many great rock magazines. The editors thought I knew what I was doing… little did they know!"
Kiss, March 27, 1983, Universal Amphitheatre, Universal City, CA
"Kiss had pretty much became a 'fad' for kids a few years prior – it was more about toys and commercialism than music. But the exit of Ace Frehley and introduction of Vinnie Vincent seemed to bring new life and a new hunger to the band. Their new album, Creatures of the Night, was a monster – solid, focused, and heavier than ever. The clincher was newcomer Mötley Crüe grabbing the opening slot for a handful of West Coast dates on the tour. Although Kiss were playing in much smaller venues that they normally had been, the band seemed to be ignited once again and were on their way for a second chance at their career. Vinnie Vincent, the Ank Warrior, really helped to push the band, and we felt he fit in perfectly, as their music seemed to me to be moving in a heavier and more 'metal' direction. Little did we know what was going to happen the following year."
Def Leppard, April 16, 1983, Irvine Meadows Amphitheatre, Laguna Hills, CA
"Billy Squire was touring on his huge Emotions in Motion tour, but for a large handful of us, we were there for the opening act – Def Leppard. Their first single from the Pyromania album, 'Photograph,' was just starting to get some radio play and some MTV spins, so things were just taking off for them. They played like they were the headliner and it was impossible for Billy Squire to compete with their energy and hunger. It was my birthday the day before, so I was lucky enough to afford a shirt and enough film to remember the show forever."
Quiet Riot, May 7, 1983, Perkins Palace, Pasadena, CA
"Big things were happening fast for Quiet Riot – the band had just released their Metal Health LP and their single was taking over MTV. But the big news was that Quiet Riot had just been added to the massive 1983 US Festival. By the end of the month, the band would be playing to over 250,000 fans – I knew this was my last chance to see and shoot them up close. I arrived in line hours early, in the hopes of grabbing a general admission seat as close to the stage as possible. Because I was a bit short for my age, a chair to stand on was absolutely crucial if I wanted to come home with some decent photos to sell to the kids at school. This shot is a bit softly focused as I tried my best to balance on the arms of the chair, but I always felt it captured the essence and energy of the band that night."
Van Halen, May 29, 1983, The US Festival, San Bernardino, CA
"The US Festival is and always will be the greatest concert that I ever attended. It was three magical days of amazing bands, but Sunday – also known as Heavy Metal Day – was a mind-blowing lineup consisting of full sets from Quiet Riot, Mötley Crüe, Ozzy Osbourne, Judas Priest, Triumph, Scorpions and my all-time favorite band, Van Halen. I grew up in Van Halen Country. I went to the same schools and shopped at the same record stores as the band members. To me, Van Halen were like superheroes and Evel Knievel combined – but even better. I could not wait to see them headline such a monstrous show. 
"Attendance numbers for Heavy Metal Day alone varied from 350,000 to 450,000 fans. Once tickets had sold out, fans tore down fences and came through the hills to make their way in. I had gone with a group of seven friends, but by the time Van Halen was about to hit the stage we had all lost each other in the massive crowd – it was just me and one other buddy who were able to stick together the entire day. I had snuck my camera into the show in a large bag of potato chips and I had two rolls of film saved for Van Halen. It wasn't easy, but I worked my way through the ocean of fans, closer and closer to the stage, determined to get a few shots of my favorite band. I am pretty sure I got more blurry photos than good photos that night, but I did get a handful of great memories."
W.A.S.P., June 25, 1983, The Troubadour, Hollywood, CA
"I am so lucky to have grown up in the era that I did. We took it for granted that bands like W.A.S.P. were playing the local clubs all the time. W.A.S.P. promised to make this Troubadour show special with their biggest light show ever... little did we know that meant they planned to literally light the club on fire! As the band took to the stage for their encore, Blackie emerged with a large torch in his hand. He lifted the torch to the humungous and highly flammable W.A.S.P. logo that that hung over Tony Richards' drum kit, and the entire club went up in flames. I shot this photo from the front row of the balcony and it felt like the skin on my face was about to melt off – it was the greatest thing I had ever seen! There is no way a band could get away with something like this today, but this was the Wild West of the 1980s, and back then there were no rules – each band did whatever it took to top the other bands. This Troubadour show definitely made W.A.S.P. the talk of the town."
Iron Maiden, July 7, 1983, The Orange Pavilion, San Bernardino, CA
"This leg of the World Piece tour was billed as the British Metal Onslaught – a lineup with Fastway, Saxon and Iron Maiden. My three buddies and I were super-pumped for this show. I remember feeling like I was floating on air after smuggling my 80-300mm zoom lens in my friend's huge metal hairdo. As everyone knows, the highlight of a Maiden show is when Eddie emerges onstage and wreaks havoc. Our friends were partying hard in anticipation, while I made a point of making sure I saved some film to capture that glorious moment. The crowd went nuts as Eddie took the stage! My best friend and I turned to our two buddies to join in the excitement, but to our surprise they were both so wasted by that time that they couldn't even sit up in their seats – to this day, they can barely remember seeing Maiden that night."
Ratt, February 2, 1984, The Palladium, Hollywood, CA
"This was a free show sponsored by local rock radio station KLOS and Atlantic Records to promote the just released Out of the Cellar LP. A free show and general admission seating was the perfect invitation to smuggle my camera in. This was Ratt's biggest headlining show and there was a lot on the table – and that night we all got a taste of what Ratt would soon be giving us in the arenas. I would've loved to have bought a shirt that night, but I made the sacrifice and spent what little money I had on film – I still think that was the right decision."
Scorpions, April 24, 1984, The "Fabulous Forum," Los Angeles, CA
"Scorpions were playing two nights at the Forum in Los Angeles. I had arrived early the first night to sell some of my rock photos to fans in line before the show. I made enough money to score a ticket for the show, but the seat was completely at the top of the venue – nose-bleed city, the farthest I could possibly be from the stage. My photos were all a waste that night. I was determined to come back the next night and try again. For night two, I scored a floor seat and scurried my way up to the front row and shot some amazingly close photos – I had the perfect spot! Just as I was finishing a roll of film, a security guard popped his flashlight on me and spotted my camera. I had no choice but to run and hide for the rest of the show. I was lucky enough to lose him and blend in with the crowd, but I was too terrified to pull my camera out for the rest of the night."
Kiss, February 20, 1985, Orange Pavilion, San Bernardino, CA
"I'm not really sure why I was at this show – the Kiss I loved was gone. The band had just proven themselves to the fans again with the solid Creatures of the Night album and tour. But so much had happened since: the band removed their makeup for Lick It Up; they were writing more radio-friendly, hair-metal music; and by late 1984, Vinnie Vincent was gone and Bruce Kulick was their new guitar player. It's almost painful to look at Gene Simmons in this photograph – Kiss had no identity, they lost whoever they once were. The band that were once so influential was now the influenced. If you look closely, you can see a hand at the bottom of the photo – I was struggling to stand on the arms of a folding chair that I had dragged out on the floor of the venue to secretly snap some photos – it almost looks like Gene had spotted me. I have always wondered if he did..."
Ozzy Osbourne, August 3, 1989, Irvine Meadows Amphitheatre, Laguna Hills, CA
"It was the days of the big-billed shows – this one was Ozzy, Vixen and White Lion – and as a bonus to Sabbath fans, Geezer Butler played bass on this tour. I was shooting Ozzy Osbourne and his No Rest for the Wicked tour officially, and was on assignment that night. So I figured things would be easy. Despite the fact that I had approval from the band to photograph the show, the venue decided to give me a hard time and insisted I shoot from the crowd rather than the photo pit. I was slammed between sweaty fans, trying my best to snap photos between their heads and struggling to replace rolls of film into my camera. It was a nightmare, but in the end I came out with a handful of great images that Ozzy and Sharon still post to this day."